Our team of founders, editors, and writers are a group of independent, like-minded women who come from various backgrounds and skills. Together, we believe our stories have the power to empower South Asians living in the diaspora.
Editorial Staff
Assistant Editors

Social Media Coordinators

Event Managers

Beauty Editor
Sanjana Arefin, New York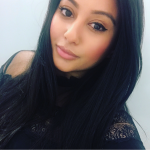 Beauty Gurus 
---
written for you. by girls just like you.
Our freelance staff of contributors consists of young women (and men) from across the country, who are eager to share their unique stories and viewpoints.
Karishma Desai, California | @kbdesai311
Hera Ashraf, Indiana | @HeraAshh
Elizabeth Jaikaran, New York | @LizJaikaran
Saumya Bhutani, New York | @SaumyaNotSonia
Trisha Arora, New Jersey |  @TrishaKArora
Marina Ali, Mississippi | @MarinaAli
Hadiya Iqbal, Texas | @hadiyaiqbal
Sheena Pradhan, New York | @SheenaPradhan
Jill Patel, New Jersey | @ItsJill_
Subrina Singh, New York | @SubrinaLaLaLa
Zaynah Arefin, Texas |  @ZaynahA
Sneha Goud, New York | @Sneha_Goud
Soni Satpathy-Singh, New York | @SketchyDesi
Foram Mehta, Texas | @IamFoprah
Sheena Vasani, California | @SheenaVasani
Rani Shah, Illinois | @raanstermonster
Shilpa Prasad, Arizona | @shilpaprasad_7
Grishma Patel, New York | @GrisPat814
Meghana Kaloji, Virginia |  @meghavolt
Harshita Ganesh, Texas | @HarshiKapoor17
Vaidehi Gajjar, South Carolina | @vgajjar95
Rabia Toor, Michigan
Anagha Kikkeri, Texas
Saira Imran, New Jersey
Sheena Vasani, California | @SheenaVasani
Would you like to submit something to us? Email us at Staff@BrownGirlMagazine.com with your submission(s). If we like it, we will publish it!
Comments