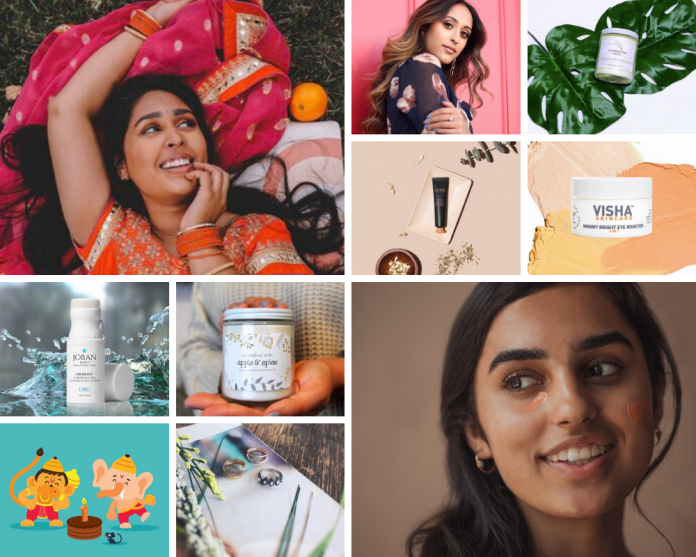 This has to be one of the best seasons for us South Asians — we're surrounded by love and light, quite literally, throughout this festive season. With Dussehra, Karwa Chauth, Dhanteras, Diwali, and Christmas happening one after the other, you know that there will be an abundance of sweets, flashy outfits, holiday parties and beautiful gifts coming your way, that's for sure!
It's safe to say that we usually have our mithai and outfits all sorted, but what usually gets us are the gifts. Am I right? What makes for the perfect gift for your loved ones? Well, you don't have to look any further now there's a South Asian brand for almost anything and everything you need — each one uniquely finding ways to bridge the gap between our hyphenated identities. Grateful to have worked with every small business on our line-up below and look forward to many more!
Give the gift of delicious food to your favorite chef, through this cookbook — they'll have a ball of a time in the kitchen!
View this post on Instagram
Find the perfect jhumkas, necklaces and more at this Toronto-based jewelry store. The special women in your life will love their one-of-a-kind collections!
View this post on Instagram
Pick up a hand-crafted perfume for your all your favorite people — each of their scents uses botanicals sourced from all around the world; they even sell lipsticks, so take your pick!
View this post on Instagram
A gift that will make an impact all over the world. Nuriyah handbags are crafted by women in Afghanistan, India, and Turkey, and 5 percent of each purchase goes to the Malala Fund and Ramana's Garden Children's Home.
View this post on Instagram
Give the gift of balanced skincare with Soma Ayurvedic products which are made with natural ingredients, giving you a whole new skincare experience.
View this post on Instagram
Inspire curiosity through miniature toy versions of Baby Ganesh and Baby Hanuman! Help parents teach their kids about their roots and bring them closer to where they come from.
View this post on Instagram
A candle from Scrumptious Wicks will give you all the feels of home and yummy food — they make candles inspired by South Asian culture, food, and family.
View this post on Instagram
Your lady love will admire a piece from Anuja Toila Jewelry — they say each item is made with the designer's love for fashion, art, and beauty.
View this post on Instagram
Joban Beauty's coverant is just what some people need in their life. What's their coverant? A deodorant that not only provides underarm freshness but also conceals and color corrects. Unheard of, right?!
View this post on Instagram
Grab your favorite fitness buff that yoga mat they've been eyeing for the longest time. Live Maiya has just what you're looking for!
View this post on Instagram
Visha Skincare has products ranging from eye creams to cleansers. You can't go wrong by giving someone the gift of good skin, and that too through Visha. They've also got a mommy line every mom-to-be needs their hands on.
View this post on Instagram
Do you know somebody with kids? Believe me when I say that they'll appreciate a onesie from Lark Adventurewear. Each one of their pieces is made keeping a child's comfort in mind — they use sun-safe bamboo essentials.
View this post on Instagram
Every beauty buff dreams of splurging at Live Tinted. So, why not make that dream come true? May we suggest they're highly popular, all-vegan, Huestick?
View this post on Instagram
Share your love for reading with little kids. Gift them colorful books from Desi Babies and make their Diwali that much brighter.
View this post on Instagram
Do you know someone who watches their macros? If so, this book is just what they need — and you need to give it to them! A mother-daughter duo teamed up to make a cookbook that reflects healthy Indian eating, without compromising the flavor.
View this post on Instagram
This critically-acclaimed cookbook is just what you need to inspire you to cook South Asian flare — every single recipe is bursting with flavor!
View this post on Instagram
All-natural ayurvedic skincare inspired by the beauty rituals of Indian royalty — founded by Michelle Ranavat — and featured by Allure, Brydie, Vogue. From hair and body serum to facial serums, toniques and masques, Ranavat pledges two percent of proceeds to helping women escape human trafficking.
View this post on Instagram
There's nothing more important than family, and one family to shed light on are the Virani's — known for their bespoke fine jewelry. Based in New York City, Virani Jewelers is one that has been passed down from generation to generation and now under the leadership of their son, Aqib Virani.
View this post on Instagram
View this post on Instagram
Journ — created by Sarah Shah — is skincare-focused-cosmetics that will conceal specific skin concerns for a flawless look and also help improve them over time. With five color correctors meant to conceal dark circles, hyperpigmentation, redness from acne and more, it's the newest South Asian beauty product to add to your makeup bag.
Contemporary multi-purpose prayer mats — American made and 100 percent woven cotton — the perfect present this holiday season.
View this post on Instagram
Ihsan-Ishan is a new design company created by artist Sangeetha Kowsik, who is a Parsons School of Design graduate, with a degree in Arabic Calligraphy. Ihsan-Ishan aims to educate the world about lesser-known stories, concepts and ideas through art and design. Products include textiles, art prints, and accessories.
Cha-mak: an Urdu adjective describing shine, glow, bling, sparkle, luminosity or flashes of light. Alina Shaikh, the child of Pakistani immigrants but born in the borough of Queens, New York wanted to merge her two homes in a brand. She created Chamak Society, a New York City-born streetwear brand that used the lush fabrics and textiles of Pakistan and natural grit of New York City fashion.
And there you have it, folks! Just when you thought you didn't have any festive gift ideas for your loved ones, we're giving you 20 South Asians brands to take inspiration from, and support.
Comments