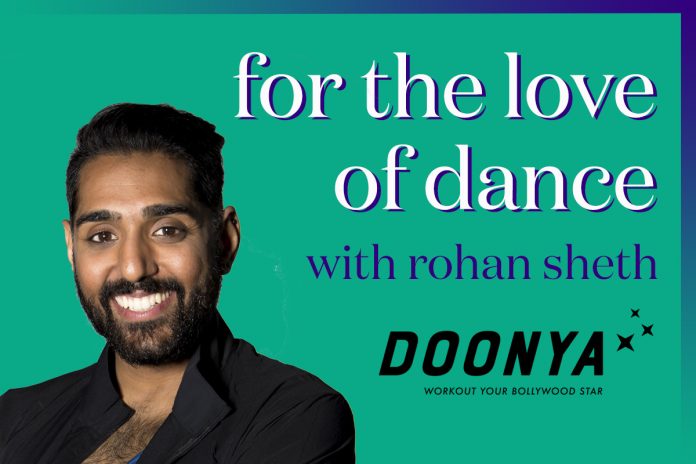 Queering Desi is a podcast that celebrates the unique experiences of South Asian LGBTQ+ people. Each week, a guest will chat with long-time community activist, writer, and Brown Girl editor Priya Arora, about their journey, their work, and what it means to be true to who you are. To help us share our stories in our own words, and take the burden of representation off each individual, this podcast aims to be a breeding ground for discussion and a platform for being loud and proud, no matter who you are!
This week, Priya chats with Rohan, the CEO —or as he prefers, the Bolly heRO—of Doonya, a danced-based, high-intensity interval training dance fitness program. Rohan shares the origins of his love for dance, garba circles, and Madhuri Dixit. He shares how his identity as a gay man was impacted by cultural and gender norms, and how he paved the way to self-acceptance. Priya asks Rohan how his journey shaped the way he now runs Doonya, and later, Rohan shares his three biggest dance loves. With Bollywood in the mix, the two end with some fun trivia, where Rohan reveals his dream panel of dance judges, his all-time favorite Bollywood dance song and what he really thinks about the "Ek Do Teen" song remake!
More about Rohan:
Over the last decade, Rohan Sheth has dedicated himself to applying his passion for dance and marketing to foster connections to and within South Asian diaspora, particularly for the Desi LGBT community.
A Doonya staffer since early 2010, Rohan quickly emerged as one of Doonya's most popular instructors, known for making his classes as exhilarating and festive as much as they are a full body workout that will leave every muscle aching—and leaving everybody aching for more.
In addition to his work at Doonya, Rohan choreographed and appeared in the Planned Parenthood Bollywood video that aired on "The Daily Show" and the "Rachel Maddow Show." He also choreographed and led the SALGA dance team in the annual New York City Pride Parade.
He's also the mastermind behind Mumbai 2 Miami, the first-ever international gay Bollywood circuit party weekend. He's organized numerous other events, including Pondicherri's 2017 Diwali fundraiser to benefit education for the children of migrant workers in India and their Bollywood drag brunch in March. In putting together these events, Rohan wants people to have a good time. But more than that, he aims to create spaces in which people can flourish by celebrating their most authentic selves.
When he's not getting his Doonya on, Rohan is the product marketing manager for media and lifestyle company Refinery 29. Rohan originally hails from Pittsburgh, but he's called New York home since 2009. He loves all things Garba/Raas, Madhuri Dixit, puppies, and peanut butter—not necessarily in that order.
You can follow Rohan on Instagram.
Tune in for a new episode every Wednesday, and be sure to rate and subscribe to help us spread the word! Currently available on iTunes, Google Play, Spotify, Sticher, iHeartRadio, and AudioBoom (or wherever you listen to podcasts!). If you identify as South Asian and LGBTQIA+, we now have a safe space for Queering Desi listeners to post, interact, and connect! Please join our Facebook group here.
Send questions, comments, and feedback to [email protected]!
---
Priya Arora is a queer-identified community activist, editor, and writer. Born and raised in California, she has found a home in New York City, where she currently works as a frontpage editor at HuffPost. She previously served as a board member for SALGA NYC, the tri-state area's South Asian LGBTQ organization. As an activist, she has spoken, performed, and presented at various LGBTQ events across the country. Priya's educational background in mental health has fueled her passion for capturing and fostering the narratives of LGBTQ+ people of color. When she's not working, Priya enjoys watching old school Bollywood movies, laboring over crossword puzzles, reading books she never finishes, and eating way too much of her partner's homemade Hyderabadi biryani.
Comments