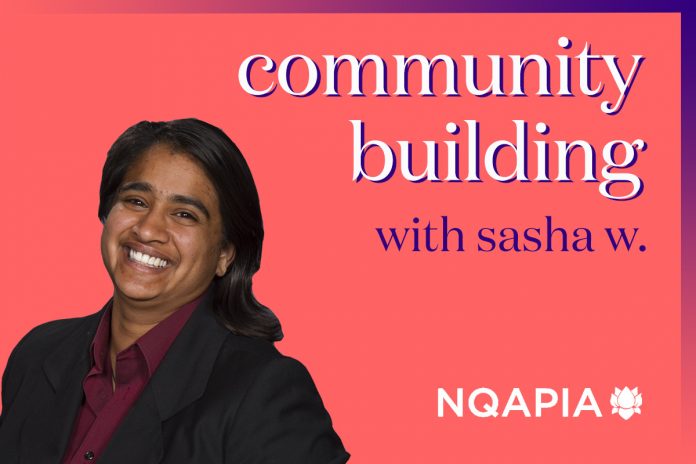 Queering Desi is a podcast that celebrates the unique experiences of South Asian LGBTQ+ people. Each week, a guest will chat with long-time community activist, writer, and Brown Girl editor Priya Arora, about their journey, their work, and what it means to be true to who you are. To help us share our stories in our own words, and take the burden of representation off each individual, this podcast aims to be a breeding ground for discussion and a platform for being loud and proud, no matter who you are!
This week, Priya chats with Sasha W., the Organizing Director for the National Queer Asian Pacific Islander Alliance (NQAPIA). Sasha shares their journey into organizing, and the cultural and familial origins of this work, including the 2004 tsunami that devastated Sri Lanka. The two discuss the importance of uplifting marginalized voices, allyship with other movements including #BlackLivesMatter, and how to build communities across generations. Later, Sasha shares the most rewarding part of their work, and how they practice self-care. (Shoutout to their amazing pup, Rain!)
More about Sasha W.:
Sasha W. is a queer, South Asian, Sri Lankan with organizing roots and homes in Los Angeles, Philadelphia, Madison and DC. Sasha is the Organizing Director at the National Queer Asian Pacific Islander Alliance, working to build the power of LGBTQ API communities towards a world where all queer and trans people of color can thrive. The core of Sasha's work is a belief that we have what we need to win, that the margins of our communities will lead us towards liberation, that we can transform ourselves and our people to build real power, and that we must organize towards a world without borders, prisons or binaries. Sasha has also been part of a variety of organizing and political education projects including Asians for Black Lives, LASSI: Los Angeles Solidarity Summer Institute, No Dane County Jail Coalition, Queer South Asian National Network, South Asian Youth Movement and more.
Tune in for a new episode every Wednesday, and be sure to rate and subscribe to help us spread the word! Currently available on iTunes, Google Play, and AudioBoom (or wherever you listen!). If you identify as South Asian and LGBTQIA+, we now have a safe space for Queering Desi listeners to post, interact, and connect! Please join our Facebook group here.
Send questions, comments, and feedback to [email protected]!
---
Priya Arora is a queer-identified community activist, editor, and writer. Born and raised in California, she has found a home in New York City, where she currently works as a frontpage editor at HuffPost. She previously served as a board member for SALGA NYC, the tri-state area's South Asian LGBTQ organization. As an activist, she has spoken, performed, and presented at various LGBTQ events across the country. Priya's educational background in mental health has fueled her passion for capturing and fostering the narratives of LGBTQ+ people of color. When she's not working, Priya enjoys watching old school Bollywood movies, laboring over crossword puzzles, reading books she never finishes, and eating way too much of her partner's homemade Hyderabadi biryani.
Comments