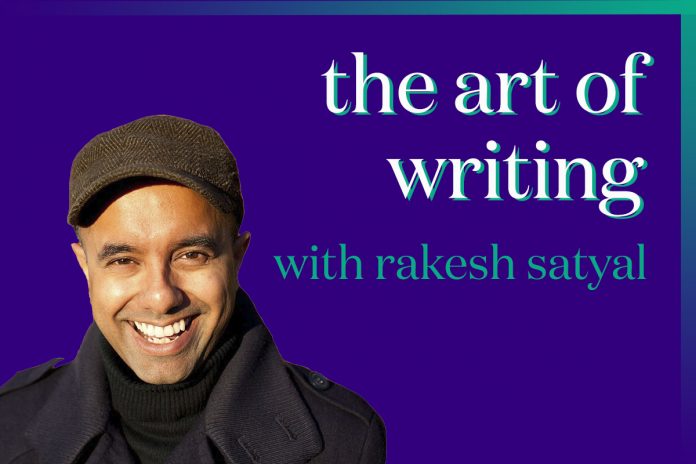 Queering Desi is a podcast that celebrates the unique experiences of South Asian LGBTQ+ people. Each week, a guest will chat with long-time community activist, writer, and Brown Girl editor Priya Arora, about their journey, their work, and what it means to be true to who you are. To help us share our stories in our own words, and take the burden of representation off each individual, this podcast aims to be a breeding ground for discussion and a platform for being loud and proud, no matter who you are!
This week, Priya chats with Rakesh Satyal, author of the groundbreaking South Asian queer books "Blue Boy" and "No One Can Pronounce My Name." The two discuss the underpinnings of his latest book, including how his identities gave shape to the characters and his work overall. Later, he tells Priya how this lens informs the books he seeks to publish as a Senior Editor at Atria Books. The two also discuss early influences in their love for reading, and what's next for Rakesh.
More about Rakesh Satyal:
Rakesh Satyal is a Senior Editor at Atria Books, a division of Simon & Schuster. Satyal is the author of the Lambda Literary Award-winning debut novel "Blue Boy." "Blue Boy" won the 2009 Prose/Poetry Award from the Association of Asian American Studies and Satyal was a recipient of a 2010 Fellowship in Fiction from the New York Foundation for the Arts. He held previous positions at Doubleday and HarperCollins and spent three years working as a naming specialist in the world of branding. He has sat on the advisory board for the annual PEN World Voices Festival and has taught in the publishing program at New York University. His new novel, "No One Can Pronounce My Name" has been described as "a warm, life-affirming story of reckoning with past secrets," by Celeste Ng and "a big-hearted, hopeful, and often very funny novel about the unpredictability of love," by Hanya Yanahigara.
You can follow Rakesh on Twitter, or visit his website for more information.
Tune in for a new episode every Wednesday, and be sure to rate and subscribe to help us spread the word! Currently available on iTunes, Google Play, and AudioBoom (or wherever you listen!). If you identify as South Asian and LGBTQIA+, we now have a safe space for Queering Desi listeners to post, interact, and connect! Please join our Facebook group here.
Send questions, comments, and feedback to [email protected]!
---
Priya Arora is a queer-identified community activist, editor, and writer. Born and raised in California, she has found a home in New York City, where she currently works as a frontpage editor at HuffPost. She previously served as a board member for SALGA NYC, the tri-state area's South Asian LGBTQ organization. As an activist, she has spoken, performed, and presented at various LGBTQ events across the country. Priya's educational background in mental health has fueled her passion for capturing and fostering the narratives of LGBTQ+ people of color. When she's not working, Priya enjoys watching old school Bollywood movies, laboring over crossword puzzles, reading books she never finishes, and eating way too much of her partner's homemade Hyderabadi biryani.
Comments