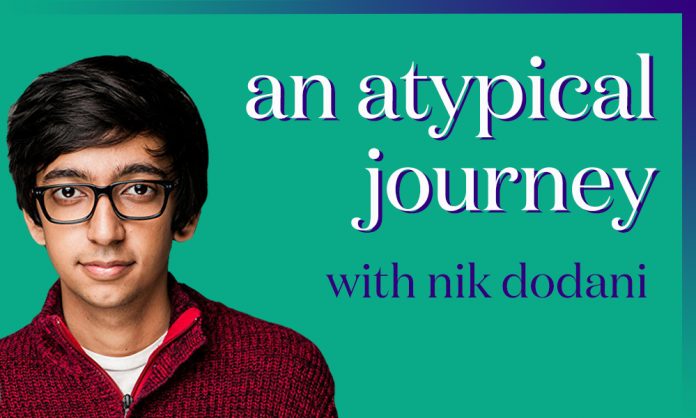 Queering Desi is a podcast that celebrates the unique experiences of South Asian LGBTQ+ people. Each week, a guest will chat with long-time community activist, writer, and Brown Girl editor Priya Arora, about their journey, their work, and what it means to be true to who you are. To help us share our stories in our own words, and take the burden of representation off each individual, this podcast aims to be a breeding ground for discussion and a platform for being loud and proud, no matter who you are!
This week, Priya chats with actor and comedian, Nik Dodani. Nik shares how his coming out journey is intertwined with his comedic beginnings, and how he landed the role of Zahid on Netflix's "Atypical." Priya and Nik discuss South Asian representation in Hollywood, and he tells her about the discrimination he has faced. Later, Nik shares a glimpse of his upcoming projects, including the reboot of "Murphy Brown" and season two of "Atypical." The two end with some fun games featuring Nik's celebrity crushes and his favorite movie.
More about Nik Dodani:
Nik was born in Texas and raised in Arizona before fleeing west to California. He's now an actor and comedian in Los Angeles, best known for playing Zahid on Netflix's new original series, "Atypical."
Nik also performs stand-up comedy across the country at venues like The Comedy Store, The Improv, The Laugh Factory, Zanies, Gotham Comedy Club, and random shady bars. His work has been featured on BuzzFeed, The Huffington Post, Colorlines, and other outlets.
In 2018, Nik will appear in the Ben Stiller-produced Netflix comedy, "Alex Strangelove"; in Joshua Leonard's indie drama, "Behold My Heart"; and a Sony Picture's thriller called "The Maze." He's most recently appeared on Comedy Central's "Idiotsitter," HBO's "The Comeback," FreeForm's "Kevin From Work," NBC's "The Player," some indie films, and in a variety of only somewhat embarrassing commercials.
Nik is also currently a graphic designer and producer with Art Not War, a cultural impact and PR firm. During the collective trauma that was the 2016 presidential election, Nik was as an Associate Producer at MoveOn.org, where he produced videos, graphics, and live events targeting millennial voters, including a national stand-up comedy tour Laughter Trumps Hate and a get-out-the-vote PSA called "Millennials Against Trump." He also interned on Elizabeth Warren's 2012 Senate campaign and consulted for Alicia Keys' HIV/AIDS awareness initiative at RALLY, among other activist-y things.
You can follow Nik on Instagram or visit his website for more information!
Will you be in NYC on April 21? Join Brown Girl Magazine as we team up with YUVA, the hottest South Asian LGBTQ+ party in NYC, to celebrate the launch of Queering Desi! More details available here.
Tune in for a new episode every Wednesday, and be sure to rate and subscribe to help us spread the word! Currently available on iTunes, Google Play, and AudioBoom (or wherever you listen!). If you identify as South Asian and LGBTQIA+, we now have a safe space for Queering Desi listeners to post, interact, and connect! Please join our Facebook group here.
Send questions, comments, and feedback to [email protected]!
---
Priya Arora is a queer-identified community activist, editor, and writer. Born and raised in California, she has found a home in New York City, where she currently works as a frontpage editor at HuffPost. She previously served as a board member for SALGA NYC, the tri-state area's South Asian LGBTQ organization. As an activist, she has spoken, performed, and presented at various LGBTQ events across the country. Priya's educational background in mental health has fueled her passion for capturing and fostering the narratives of LGBTQ+ people of color. When she's not working, Priya enjoys watching old school Bollywood movies, laboring over crossword puzzles, reading books she never finishes, and eating way too much of her partner's homemade Hyderabadi biryani.
Comments