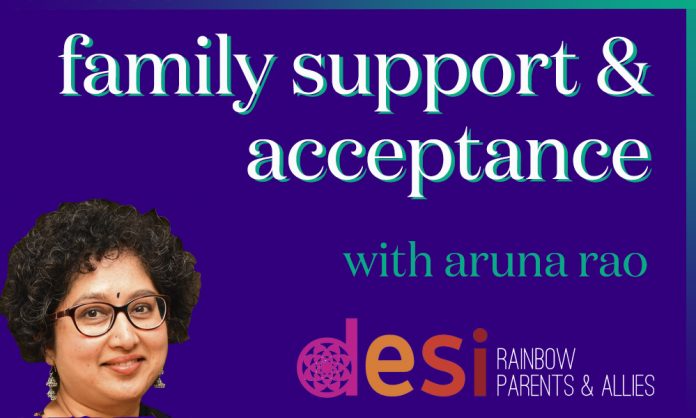 Queering Desi is a podcast that celebrates the unique experiences of South Asian LGBTQ+ people. Each week, a guest will chat with long-time community activist, writer, and Brown Girl editor Priya Arora, about their journey, their work, and what it means to be true to who you are. To help us share our stories in our own words, and take the burden of representation off each individual, this podcast aims to be a breeding ground for discussion and a platform for being loud and proud, no matter who you are!
In this episode, Priya chats with Aruna Rao, the mother of a queer young adult and the founder of Desi Rainbow Parents & Allies. Priya asks Aruna about her own journey as a parent and why she founded the organization. Aruna talks about the optimism she has and barriers she faces in community building with parents of South Asian LGBTQI folks, and the two discuss strategies for creating intergenerational allyship and support. Later, Aruna shares the link she's seen between mental health and LGBTQI communities, and her goals for the organization in 2018.
More about Aruna Rao:
Aruna Rao is the mother of a queer young adult and the founder of Desi Rainbow Parents & Allies. Aruna recognizes the urgent need for family acceptance of LGBTQI people in South Asian communities and is dedicated to creating a loving, inclusive world where LGBTQI people are welcomed and are an intrinsic part of community spaces. She volunteers with PFLAG NYC and NQAPIA to promote family acceptance.
In her professional life, Aruna has been a community mental health advocate and grassroots organizer for two decades, and is currently an Associate Director at the National Alliance on Mental Illness of New Jersey (NAMI NJ). Aruna is the founder of SAMHAJ, the first program in the USA to provide support and education for South Asian Americans affected by mental illness. She makes frequent presentations on mental health to community and professional groups.
More about Desi Rainbow Parents & Allies:
DRPA is a group formed in 2017 for South Asian families and friends of lesbian, gay, bisexual, transgender, queer and questioning individuals to learn about LGBTQ+ issues, find community with one another and learn how to better support their loved ones. We foster understanding and acceptance among families, with the goal of affirming and celebrating our LGBTQ loved ones.
DRPA offers support by connecting parents and families to local, culturally specific resources. Starting September 2017, DRP has hosted a series of confidential and educational conference calls that follow a support group format. Mental health professionals, physicians, community members, and other experts make brief presentations about LGBTQ+ topics followed by a Q&A session and open discussion.
DRPA also does outreach by attending Desi and LGBTQ+ community events including local Pride parades, conferences, and local events. In addition, DRPA facilitates educational workshops based on the needs of each group. In the past, DRP has facilitated coming out workshops and family acceptance panels. We have collaborated with community organizations, local high schools, and university organizations.
You can reach Desi Rainbow Parents & Allies by email, Facebook Page, Facebook Group, and WhatsApp (Desi Rainbow Parents).
Tune in for a new episode every Wednesday, and be sure to rate and subscribe to help us spread the word! Currently available on iTunes, Google Play, and AudioBoom (or wherever you listen!). If you identify as South Asian and LGBTQIA+, we now have a safe space for Queering Desi listeners to post, interact, and connect! Please join our Facebook group here.
Send questions, comments, and feedback to [email protected]!
---
Priya Arora is a queer-identified community activist, editor, and writer. Born and raised in California, she has found a home in New York City, where she currently works as a frontpage editor at HuffPost. She previously served as a board member for SALGA NYC, the tri-state area's South Asian LGBTQ organization. As an activist, she has spoken, performed, and presented at various LGBTQ events across the country. Priya's educational background in mental health has fueled her passion for capturing and fostering the narratives of LGBTQ+ people of color. When she's not working, Priya enjoys watching old school Bollywood movies, laboring over crossword puzzles, reading books she never finishes, and eating way too much of her partner's homemade Hyderabadi b
Comments