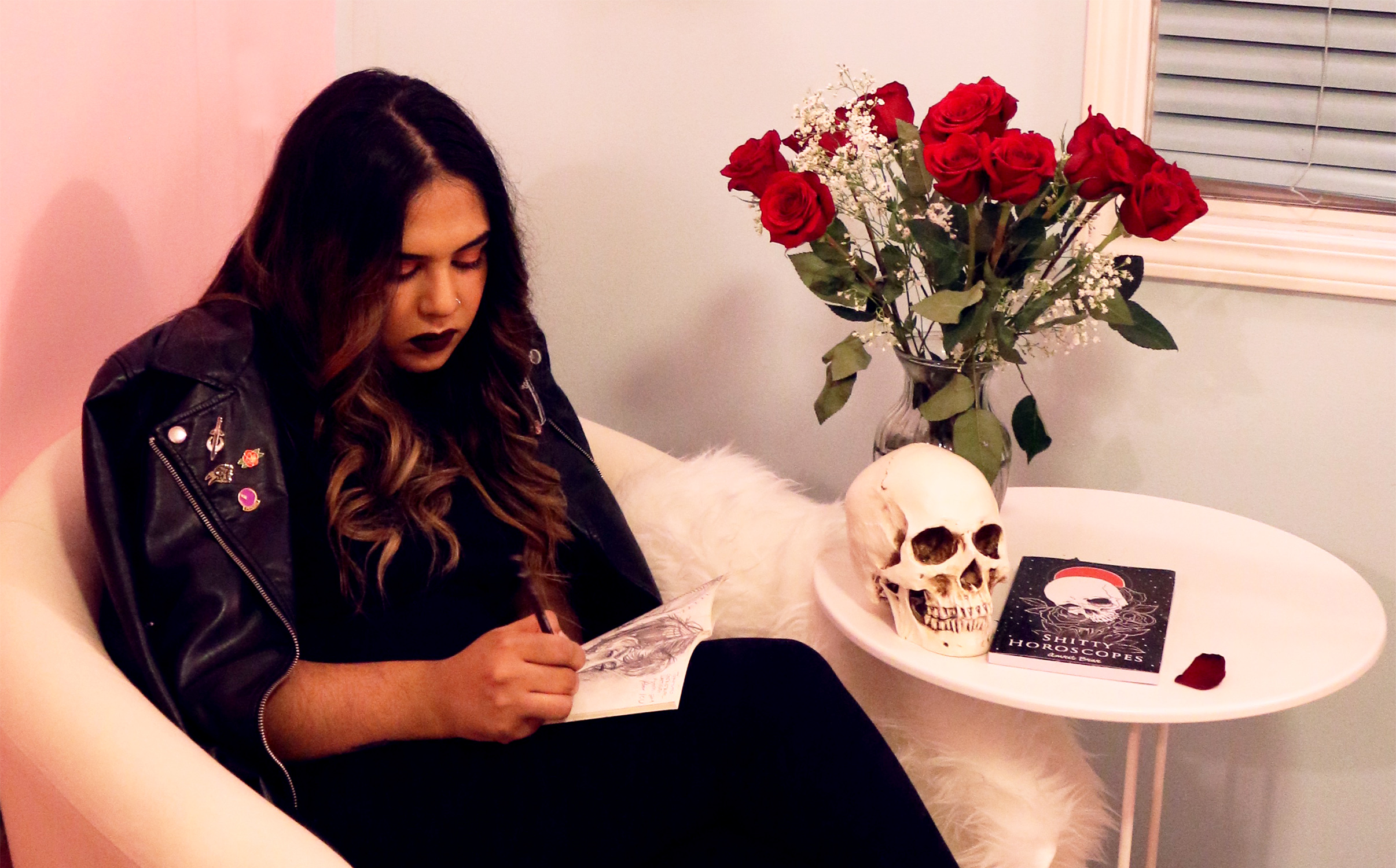 Amrit Brar is a first generation Punjabi-Canadian illustrator and writer who bounces between the cities of Brampton and Toronto. Her work, while mired in magic, the occult, and supernatural themes, explores the underpinnings of gender, sexuality, race, class, magic, religion, and mental health in both her life and that of her friends and family.
"I draw. That's what I do for recreation and as a profession, and it's long since passed the realm of habitual to become obsessive. My parents kind of resigned themselves to me pursuing art for the rest of my life when it became obvious that I wouldn't stop scribbling anytime soon.
Both sides of my family hail from large villages in farming communities in the state of Punjab, India. We're Sikh and Indian, a combination that meant my family left the country shortly after the 1984 massacres called for the extermination of the religious minority. My faith and that incident are the background music to much of my life, and I'd be lying if they said they didn't deeply inform the direction (or lack thereof) that my art can often take.
I love drawing—I have loved it, as fierce and deadened and joyous and miserable as any other kind of love. I've been removed from feeling very impassioned about romance for a lot of my life (my first two crushes, a brown boy and brown girl respectively, died rather prematurely by the time I was fifteen), so the love I obsessively document is typically that shared between friends, family members, platonic relationships and kinship, the love-hate an individual that fantasizes about their own destruction has with the mere prospect of staying alive.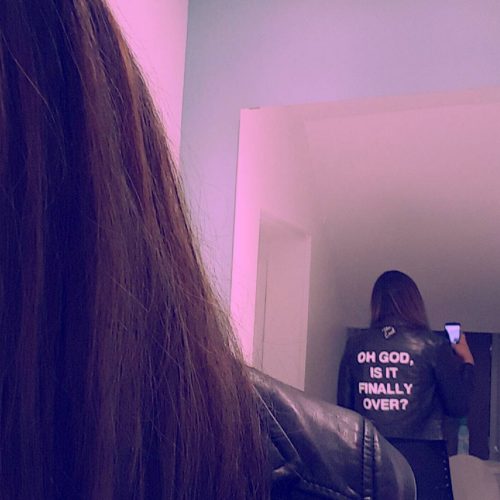 [Amrit in a jacket she customized.]
The long and short of it is that I spilled a childhood into pen and paper and followed that through to an arts university and student debt after leaving high school. I studied illustration at OCAD in downtown Toronto and I'm still not entirely sure as to how I feel about the program. I was fortunate enough to get exposed to zines as a medium by one of my favorite professors, Fiona Smyth, and set to making small booklets documenting horror stories and superstitions that my mother and grandmother had passed on to me including Baat Sana and Buri Najar.
I'd had a huge love of horror in media and the supernatural growing up, and major respect for manga artists like Junji Ito and Yoshihiro Togashi (Uzumaki and YuYu Hakusho being my favourite series as a kid), along with North American illustrators like Edward Gorey (his Amphigorey Again being monumental since I picked it up entirely by accident at my local library). So, I learned to love anatomy, taxidermy, awful b-movie horror and learning as much as I could about superstitions and magical practice from my parent's home.
I got my start in zines by tabling at zine fairs, the Toronto Queer Zine Fair (during its inaugural year!) being my first, and it set the tone for what followed. The Shitty Horoscopes series, which I started as a simple monthly webzine when I was feeling disenchanted with my drawing and my program, and soon blew up into something much more substantial. Self-publishing the anthology through Kickstarter was the first time I got a serious amount of proof that there maybe a future in illustrating for me, and that I could continue to put out my personal work and see some form of support or return in it.
Even if it was more of a for-fun project, I had a great time subtly sneaking my agenda into it, deliberately leaving out any form of gendered terminology, exploring the fashions in which people love and loathe each other and themselves, devoting myself to completing something much bigger than what it initially started as.
As for now? I continue to draw. I document my feelings about my younger siblings in zines like For Sister and a traditional-meets-digital childhood in Raised by the Internet. Inhuman Connections is the series I devote to small, off-shot queer humor and existentialism in its two volumes, Some Gay Illuminati Shit and Live Weird Die Weirder. I set to work on The Marigold Tarot this year and it's a project I'm particularly excited about since the artwork is going to feature skeletal figures draped in traditional Punjabi clothing, jewelry, and magic symbolism. For me, it's a more familiar deck for a more familiar magic across mediums, a look into a future where I'm hopefully still doing what I love to do most."
-Amrit Brar
You can find Amrit on Instagram, Tumblr, and Twitter. Check out more of her illustrations on her website, and her personal zines here. And make sure to visit her online shop if you enjoy her work!
---
Do you know a Brown Girl who is awesome at what she does? Send an email telling us why at 

[email protected]

.
Comments