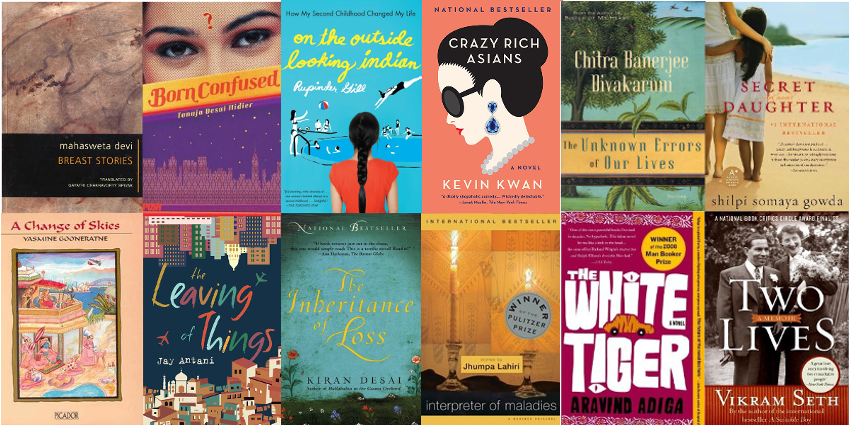 by BG Staff – Follow @browngirlmag
What every brown girl* in her 20s needs to do during her downtime? READ! Reading gives you a reason to escape from your day-to-day digitalized world to something more meaningful and worthy.
But, sometimes you need a little guidance when it comes to great books. Here at BG, we have compiled a list of books that have moved us—we hope you like them too!
Have suggestions? Comment with the title/author below and we'll add it to our second list of must-read books!
*or brown boy—because we don't discriminate.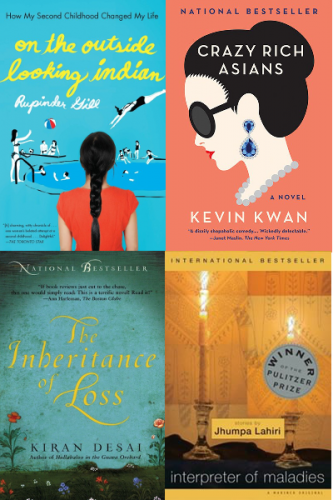 Based on the events that took place during
her childhood, as a child of Indian immigrant parents transplanted in Canada, Gill crafts a lighthearted and heartfelt story to recreate a second childhood which she only saw others experience. As she explores the activities she missed out on as an adult, Gill creates a funny and relatable tale.
Providing an inside look at the lavish lifestyles of new and old monied Chinese families, author Kevin Kwan brings to light the reality of a new age romance set in opulence. When the son of an extremely wealthy Chinese family brings home his American-born Chinese girlfriend, she finds it difficult to adjust, while surrounded by crazy rich Asians.
Set in the Himalayan mountain range during the 1980s, "The Inheritance of Loss" delivers a wonderfully woven tale about a bunch of people who struggle against the effects of colonialism and adjusting to an emerging modern world. A judge, his orphaned granddaughter, the judge's cook, and the cook's son illuminates the intricacies of cultural identity in a profound way.
One of the few short story collection recipients of the Pulitzer Prize of recent times, "The Interpreter of Maladies" is a classically woven tale of different families, cross-generational clashes, biculturalism, love, sorrow, death and happiness.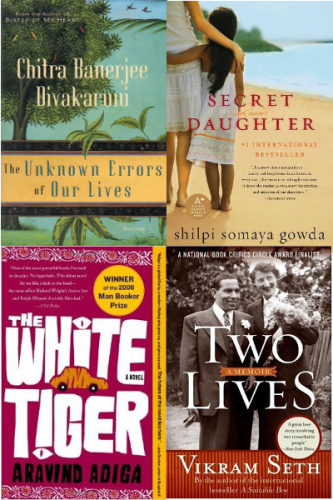 5. "Two Lives"
By Vikram Seth
Many have hailed author Vikram Seth as one of the world's best authors.  His book "Two Lives" stands as a testament to his writing prowess as it details the true story of two people, Shanti Behari, and Helga Caro, who fell in love in the 1930s in Berlin.
When Kavita gives her daughter away to a Mumbai orphanage to help her escape the fate of her firstborn daughter, who was killed by her father (due to female infanticide), an American family from San Francisco decides to adopt her.  The book follows the lives of Asha's poor, biological parents living in Mumbai's slums and the early lives of her Indian-born American parents whose privileged lives run in stark contrast to the life she might have had.
Capturing the essence of India's "darkness"— the large lower class — Adiga writes about one man's rise to successful entrepreneurship from a start as a driver to a wealthy landlord in New Delhi.  As he tells his unusual story, readers are hit with the much larger implications of caste, religion, dishonesty, destitution, and listlessness.
A collection of short stories, focusing on the immigrant experience of Indian women moving to America, "Unknown Errors of Our Lives" delves into the dynamics of marriages, in particular, illuminating relationships in various stages. A wonderful read for those in serious relationships or for those bored on Valentine's Day.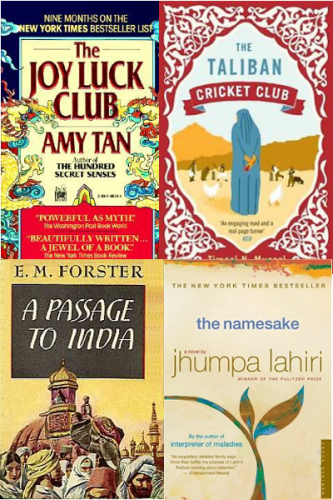 The Joy Luck Club is a group of serious Chinese-American mah-jongg players. Each woman in the group has vivid memories of childhood in China and of life raising children, daughters, in the U.S. The stories link each child and each parent, delivering wise advice and funny stories. Each conflict is more interesting than the next and each has its own melodrama and excitement.
The classic — which has withstood the test of time even within the English literary canon — narrates the story of Dr. Aziz, a young doctor who is frequently found in the company of English citizens abroad. When Adela Moore, a newly transplanted acquaintance, files a lawsuit against him for attempted assault while visiting the famous Marabar caves, Aziz's life goes into a tailspin. The novel is a commentary on the intrusion of the British Raj, racial tension between Indians and Brits, and the micro effects of their interactions in the period immediately following British invasion.
Feisty female protagonist and journalist Rukshana feels free and empowered when she plays cricket. Growing up in war-torn Kabul, where infractions against Sharia law are stringent, Rukshana feels trapped after writing a story against the Taliban and doomed to an arranged marriage with a minister intent on wedding her. When an opportunity to travel internationally comes up, Rukshana uses her knowledge of cricket to compete and secure her last chance for autonomy.
Gogol Ganguli does not know the true story of the origin of his birth name, but he does know the incessant mocking and questions it has been the subject of since. Lahiri's classic growing-up story relays the lives of Gogol's parents and the beginning of their loveless marriage in Calcutta to the wide span of Gogol's youth and adulthood in the suburbs of Boston. A tear-jerker and wonderfully written classic, Lahiri does no wrong in this novel.
A groundbreaking collection of stories from Muslim American women that expels myths about diverse women's struggles with love, "Love, InshAllah", is a breath of fresh air in its shattering of stereotypes and conceptions of Muslimah identity. You can check out its sequel, "Salaam Love", too.
You've probably seen the Oprah and Spielberg backed mega-hit feature film but, like they say, the book is a lot better! Morais' "The Hundred-Foot Journey" may be Manish Dayal-less, but it is still a spectacular novel.
The ever-popular novel recounts the story of a dysfunctional family battling the politics of their local postcolonial government in Kerala, India. As time goes on, twins Esther and Rahul, are forced to shed their innocence. As they mature and grow, Roy teaches valuable lessons about love, relationships, and family.
In 1943, Layla Roy an educated young woman raised by an eccentric grandfather marries the man she loves. When she moves in with him and his family she finds adjusting to life in Assam, with British housewives, tea plantations, and wily servants are far from what she expected.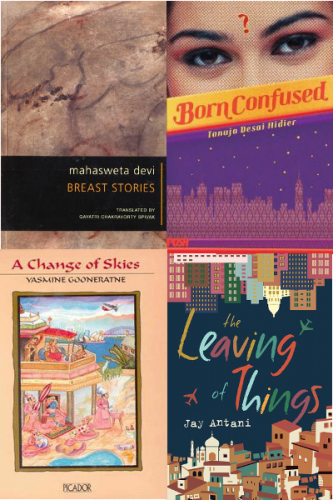 17. "Born Confused"
By Tanuja Desai Hidier
Growing up in New Jersey, seventeen-year-old Dimple feels too American in India but struggles to fit in with peers in America. Her similarly out casted friend Gwyn helps her navigate life as she tries to accept her helicopter parents and "bad boy" Karsh Kapoor.
In a moving and heartrending manner, Devi powerfully writes about three different women and their breasts. Paying particular attention to marginalized, poor, tribal women, Devi weaves a tale that is important and well visioned.
A lighthearted comedy about Sri Lankans immigrating to Australia, Gooneratne makes wise remarks on cultural oddities and parallels to behaviors found in Australia and Sri Lanka. A witty and fun read!
A rebellious and drifting Indian-American teenager, Vikram, balances life living in Wisconsin in the '80s. When one night of drunkenness convinces his parents to move the family back to India for good. Once at "home," Vikram struggles with seclusion, readjustment to life, culture shock and chaos from day-to-day until he is romanced into a creative flow by an old camera.
---
Sunny Sharma is a premedical student at the University of Florida studying biology, English and health disparities in society. When she is not splitting her time between her latest TV show addiction and studying, she enjoys traveling, dreaming and listening to other people's stories. 
---
Anjali Sharma is a fifteen-year-old Punjabi girl, born and raised in the town that contains the country's number one beach in sunny Florida.  She is the editor-in-chief of my school's elementary-aged paper and considers herself to be a perfectionist, which can be both a blessing and curse. Her passion for writing, she hopes, will continue to take her far. 
Comments