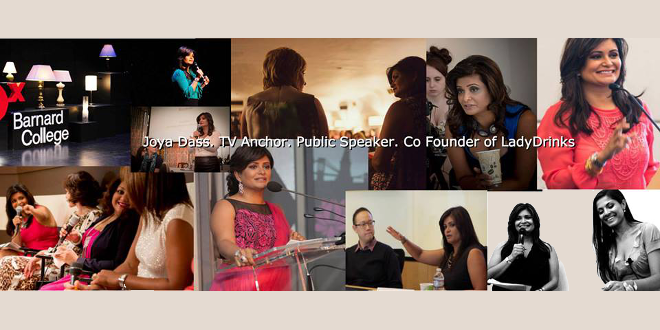 by BG Staff – Follow @Browngirlmag
By day, she's telling us about the finance industry's top lines and bottom lines at NY1. By evening, she's helping other South Asian female professionals to mind theirs through a women's networking initiative, called LadyDrinks. In this one-on-one interview, TV personality, public speaker and executive director of the South Asian International Film Festival, Joya Dass tells us how she went from business news anchor to helming a women's movement. And why drinking Riojas is in her near distant future?
Joya, you wear several hats. Can you tell our Brown Girl readers how you went from interviewing CEOs of Fortune 500 companies to founding a women's movement?
Yea, this is a common question. I've been a business news anchor in New York for the last 15 years. I've logged time with Bloomberg, CNN, and ABC. These days, you can see me reporting from the floor of the New York Stock Exchange for NY1. Business news works with my no bullshit personality, I think. The markets are either up or down. Oil is either higher or lower. I also enjoy the math and science that goes into explaining why business news is important.

About five years ago, I had been on a tough morning news schedule, where I was up every morning by 2:30 a.m., into work by 3:30 a.m. and on the air by 5 a.m. I logged those hours for four years, and decided that this brand of journalism just wasn't feeding me anymore. I went to freelance and launched my production company. But I remained on the air part-time. In order to mind the massive projects I was on, I took a partner. She had great success founding LadyDrinks in Toronto, in response to the Recession. We began the New York iteration July 2012.
How does LadyDrinks Work?
As we turn three years old in July, the business model remains the same. We host an event on the first Thursday of each month. Each month's event is different. For example, one month, we had five LinkedIn experts come in and attendees signed up for 20 minute slots with each to revise their profiles. The sixth station was a hair, makeup, and photography station to generate a new LinkedIn profile picture. Our October event was a panel discussion on "How to Get Clients?" We had a doctor, lawyer, a real estate developer and someone from the beauty industry on it. And so on.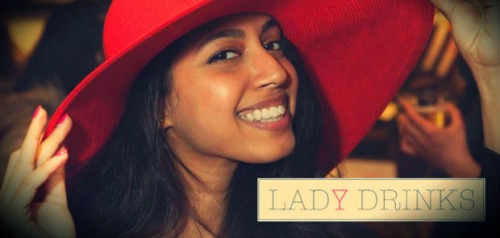 Where you do host your events?
All over New York City. Generally at a boutique or store owned by a female business owner. We like to be able to support them too. Catering of food and drinks will also work to support other small business owners. The pendulum has also swung the opposite direction where we've also hosted at Henri Bendel and DeBeers on Fifth Avenue.
In 2015, LadyDrinks turns three. What new events or things are you introducing?
We will continue with our monthly events, including a panel on "How to network better" and a "Pitch the Media" event in March. We are introducing a film and theater series to galvanize women on, say a Saturday night, to enjoy another way to meet. I am thrilled to announce that this April I will be leading my second five-day women's retreat.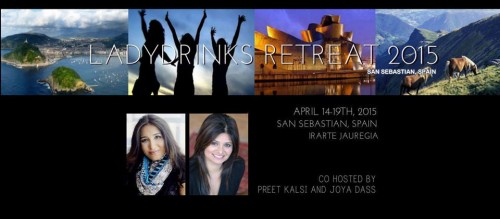 The retreat will start on April 14th and end on April 19th and be held in Basque Country, Spain. The idea being that I eject you WAY out of your comfort zone to some place beautiful. And we take dedicated time to investigate how fear is keeping us from being more confident and fearless in our lives. And have conversations about our hurdles as professional women. Conversations we're not having with our spouses, parents, or friends. Because there is no time.

Last year's retreat in Florence was life changing for the five women who attended. Zankhna Parekh made the biggest breakthrough in launching her bespoke and custom tailored business. There will be guided meditation sessions to kick off each morning, and lots of time to share meals and evening Riojas while bonding with like-minded professional women.

The retreat will take place at a chateau called Irarte Jauregia, nestled deep in the north of Spain, just outside of San Sebastian. The facility has a gourmet chef, spas, and a forest for hiking. I am anticipating seven to ten women on this year's retreat. I am so excited about this retreat that I wish it could start even sooner than April!
[Deadline to sign up for the retreat is Jan. 31. Sign up here: www.lady-drinks.com]
You've always been very vocal in telling your story. You were dogged about your pursuit of becoming a journalist.
Yes, I was one of those rare precocious children who knew, by the age of 4, that I wanted to be a journalist. It was a daily ritual in my home to watch Tom Brokaw deliver the news each evening. I think my mom picked up on this proclivity towards journalism and nurtured it by entering me in writing contests during my adolescence. My parents and I, sadly broke ranks while in college, because I went on to pursue my journalistic ambition without them. I paid for collage I paid for graduate school. And worked my way from behind to front of the camera over the course of several years.
Who have you always wanted to interview?
Diane Von Furstenberg. She was not only a game changer in women's fashion, but she's got proven staying power. 30 years later, we/I am wearing her wrap dresses. She's managed to stay relevant. From a marketing perspective, there's a real lesson there. And she's a savvy business woman who's lived through some major fashion movements.
Whose interview blew you away?
Jane Wurwand, CEO of Dermalogica. I was actually filming her interview with my production company a few years ago for the Women's Step Up Network. She said, women are afraid to dream and dream big. If you are starting a business, believe that PLAN A is going to work. There is no PLAN B.
Has anyone ever been less than kind in an interview?
Joya: Yes, I had to interview Amitabh Bachchan once. He's a very popular Indian actor. He had a movie releasing, so I was at the press junket. I was nearing the end of the line in my questioning, and asked "What do you look forward to?" He said, "For this interview to be over." Grouchy bugger.
You've interviewed everyone from the Jeff Bezos, the CEO of Amazon to life in the slums of Nairobi. Was there a story you were most affected by?
Yes, I lived through 9/11. It was my first week at CNN. I remember being assigned to head to St. Vincent's hospital with a camera man. There were battalions of doctors, nurses standing outside. They anticipated such an onslaught of bodies to come in from the aftermath; they had draped hospital sheets over office chairs to render them into makeshift stretchers. After hours of waiting, it became apparent no bodies were coming in. They had been incinerated. We were standing across Seventh Avenue with a bank of reporters and cameras. That image of all the medics with their faces craned towards downtown, with the look anticipation, remains ingrained in my brain.

Of course that was big Wall Street story as well, because the markets had to shutter their doors for a few days. But the Mayor worked with Verizon to open the exchange a few days later, in spite of it all.
You make it seem so seamless and effortless when you're on camera. Do you have any pre-camera rituals?
I have the uncanny ability to block out everything around when talking to camera. This probably comes from years of reporting on the testosterone-filled floor of the stock exchange —-smack in the middle of the daily melee. I have to drone out all the ambient screaming and yelling around me in order to do my job.

I do yoga at least once a week. I can tell the days that I haven't gone. My focus is different when I turn to face the camera.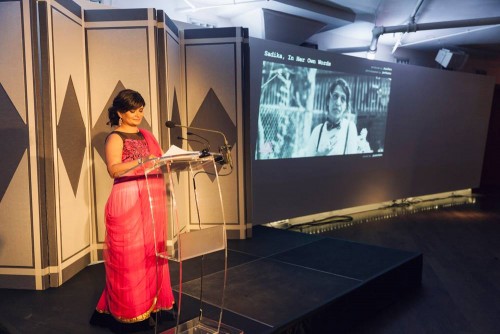 Do you consider yourself a role model?
I think I'm unapologetic about what I want to do. To anyone really.
When we started LadyDrinks in July 2012 and much to my surprise, some 300 South Asian women were showing up to my events. I realized that I had something here. So I began curate the programming and introduce panels, workshops, lectures, events, and speakers, whom I had access to because of my journalism career. My nose is always down on the grindstone, trying to find new and exciting ways to engage women in the membership. I should look up more often I guess.
What else should we know about you?
I love big bold red wines. I love peaty mossy Scotches. And I would be bereft without a life of travel. Nothing makes me happier than experience new lands and new cultures. I go to at least two international destinations a year.
Comments