by Ramya Ramana – Follow @ramyaramana
Meet our very first Brown Girl of the Month for 2014!
Our January girl is Ramya Ramana, an 18-year-old, youth activist, poet, and writer. She recently won the New York Knicks Poetry Slam that awarded her with a full scholarship to St. John's University, where she is currently studying Philosophy and Government and Politics. We found Ramya because of her popular YouTube video (seen at the end of this article) of her poetry piece titled "Miss America." 
As Youth Poet Laureate, Ramya will work with the New York City Campaign Finance Board voter education campaign, NYC Votes, to reach young voters across the five boroughs, promoting voting and civic engagement at public events, programs and peer-to-peer engagement activities. As NYC Youth Poet Laureate, Ramya will receive a book deal from Penmanship Books.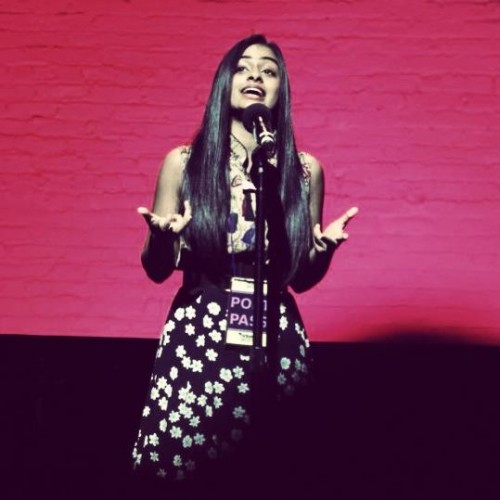 "I grew up in a neighborhood where the diversity was extremely scarce and the majority of the people in my town were Caucasian. Bullying was nothing unusual considering that my nationality was looked down upon and mocked at. Being a medium-toned Indian was not helping either, because even in my own household I was constantly reminded that in society, the lighter, the better and the more privileged, and we as minorities need to strive to achieve that goal. This stuck to my skin like Velcro through most of my childhood.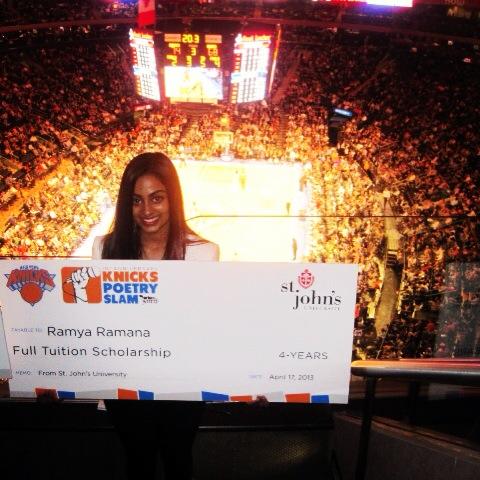 Throughout my years of education before college, I attended a variety of different schools and through this I learned a lot about society and the functioning of different groups of people. One of the biggest things I learned was that it is important to first listen to the ideas of others before implementing your own idea to the world. Another very real and factual thing I learned was about racism, privilege and oppression in America. It exists and is very much just as alive now than it was before; just because it is not in legal papers as "laws", does not mean it itself chose to withdraw from the minds of humans.
Now, after many jars of tears and stairs of internal climbing, I am very strong in my faith with Jesus Christ and realize that the many different journeys I went through contributed to who I became as a person and allowed for me to grow like a steady rose in bad weather through the help of God. Currently, as the Youth Poet Laureate of New York City, I am hoping and aspiring to bring awareness on issues such as racism, systematic oppression towards minorities, patriarchy, classism etc. I believe that because we live in a globally brainwashed society instituted by Caucasian hierarchy, it is extremely difficult for people, especially women of color to accept the beauty that was ordained from God to them. I do not speak to anybody from a stance of overcoming, I speak as a growing person whom myself is still learning what true beauty is and how it manifests through the inner flesh, like a liquid light spilling in the ocean. I believe we as a group has come far, however, still have a long way to go and we are capable of achieving that as long as we understand the dialogue of community, the reflection of God in each human and the hope in a just revolution."
– Ramya Ramana
Follow BGOTM Ramya Ramana's Facebook and Twitter.
---
Do you know a Brown Girl who is awesome at what she does? Send an email telling us why at 

[email protected]

.
Comments