by Sindhuri Bhi –Follow @sbhims
She saw a movie with a male friend. She hopped on the bus with him, but she never made it home. Instead, the 23-year-old girl was brutally gang-raped by four ruthless men, beaten and left on the side of the road, as if she was nothing. Jyoti Singh Pandey, nicknamed Nirbhaya, was a fearless woman with a beautiful soul who passed away after fighting for her life for 13-days in the hospital, on Dec. 29, 2012.
The four adult defendants were found guilty of rape, murder, unnatural offenses and destruction of evidence, and all four faced the death penalty excluding one who was found hanging from his cell.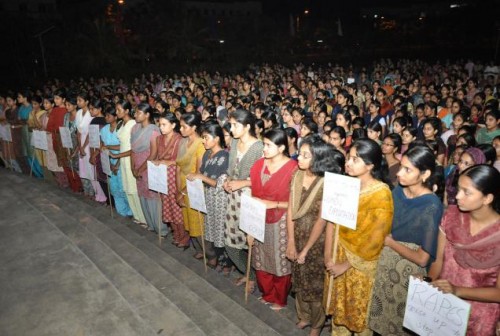 We look at this past year and ask what has changed as a result of something no woman should have to endure? Immediately after the rape of the physiotherapy student in New Delhi, thousands of protestors took to the streets of India and demanded action from the government. However, instead of real change, protestors received further restrictions on women, restraining them from going about their daily lives. Women were asked to dress more moderately, stay at home instead of being able to work and to abide by set curfews.
As a result of this, women felt they had to take matters into their own hands. They needed to speak out and make their voices heard, no matter what it took. A year later, the establishment of the Justice Verma Commission, a three-member commission assigned to check laws for sexual crimes took place. A few critical recommendations made by the panel included severe punishment for rape and other sexual offenses, a Bill of Rights for women and police reforms.
Complaints of rape have gone up by 125 percent post Nirbhaya's case,  as opposed to girls and their families keeping quiet and feeling ashamed. The Indian court system is seeing to rape cases quicker than before. The government also announced Rs. 1,000-crore Nirbhaya fund as a tribute to the brave-heart, which aims to help other rape victims.
It's taken a horrific event like this one to make way for a discussion and a change on a cultural taboo that puts the blame on girls for being assaulted, harassed or raped.
But let's not forget, violence against women is still the most common and tolerated human rights abuse. In India, there is a saying from the Rig Veda,
 Where women are worshipped, there the Gods dwell.
Women in Indian culture are represented as Goddesses. Women should see respect, pride and dignity. But, when there are acts of violence such as this particular one, how can we stay true to the traditions our country is built on? Even though a few legal changes have come about since Nirbhaya's death, do women feel safe in India?
We leave you with unanswered questions because we hope answers will come.
Feature Image: People participate in a protest rally against rape and violence against women on the 1st anniversary of `Nirbhaya Gangrape` at Jantar Mantar in New Delhi on Dec.16, 2013. (Photo: IANS)
Comments