by Arpita Mehta –Follow @AMehtaaa
The festival of Navratri is upon us, and while everyone is busy traveling home to attend garbas, here are some quick facts to help understand the festival of Navratri, and why it is celebrated by Hindus all over the world:
 8 things you may not know about Navratri
1. Navratri is celebrated three times a year and has five different names. Ashwina Navratri, Chaitra Navratri and Sharad Navratri, which is also known as Maha Navratri (Great Navratri).

2. The word Navratri stands for nine nights in Sanskrit (nav meaning nine and ratri meaning nights).
3. Another Hindu legend states that Navratri is celebrated to mark the nine-day long fight between Lord Ram and his enemy Ravana.
4. Navratri honors Shakti Ma, who takes various forms in different Hindu goddesses (Durga, Saraswati, Lakshmi). The nine-day period is separated into threes; Goddess Durga is worshipped to destroy our impurities and vices, then Goddess Lakshmi to bestow spiritual wealth, and lastly, Goddess Saraswati to bring knowledge and wisdom.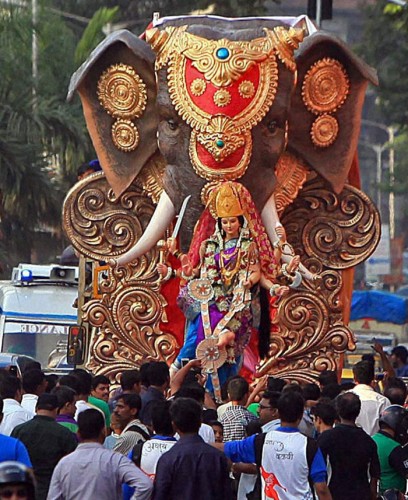 5. Nine forms of Mother Shakti who is the ultimate female form of power are worhsipped across various regions in India. (Durga, Bhadrakali, Jagadamba, Annapurna, Sarvamangala, Bhairavi, Chandika, Lalita, Bhavani, and Mookambika.)
 
6. During the nine days of Sharad Navratri, Hindus celebrate Goddess Durga's slaying of the demon Mahishasura.
7. Goddess Durga had agreed to marry Mahishasura if he won her over in a battle. This battle commenced for nine days and on the 10th night Goddess Durga beheaded him. This night is known as Dusshera or Vijayadashmi and is celebrated by Hindus as the official end to Navratri.
8. Many Hindus fast during the nine days, some eat just fruits and milk for all nine days while others eat only one meal a day. All Hindus remain strictly vegetarian for the entirety of the festival.
In honor of Navratri, take a look at this beautifully directed music video from the film, "Goliyon Ki Raasleela: Ram-Leela," by Sanjay Leela Bhansali, called "Nagada Sang Dhol Baje":
Happy Navratri and Happy Garba-ing from all of us at BG Magazine!
Comments