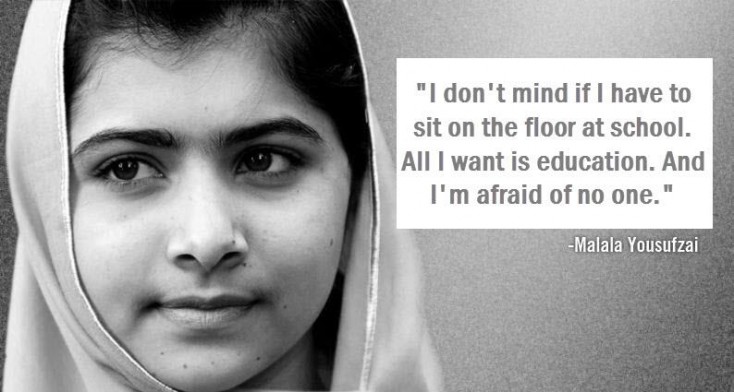 by Atiya Hasan – Follow @AtiyaHasan05
They thought that the bullets would silence us, but they failed. The terrorists thought they would change my aims and stop my ambitions. But nothing changed in my life except this: weakness, fear and hopelessness died. Strength, power and courage was born. – Malala Yousafzai's UN Speech on her 16th birthday, July 12, 2012
Malala Yousafzai is famously known as the 14-year-old girl who was shot in the head by the Taliban.
There is more to her story – she had received much international recognition by human rights groups prior to the heinous incident. In 2009, at the age of 12, she began writing a blog for BBC under a pseudonym which detailed the difficulties that the people living in her town of Mingora in the Swat Valley of Northwest Pakistan suffered under the stringent rules of the Taliban. She spoke of the restrictive laws and widespread fears of going in public due to the violence and, most importantly, the bans on educating girls. Unsurprisingly, she quickly gained a lot of international interest. Following a New York Times documentary about her, she was asked for and gave many interviews. Her father fully supported her endeavors despite the risks it carried with it, he said:
…I see great potential in my daughter that she can do more…she can create a society where a medical student would be able to get her doctorate degree.
It wasn't long before Malala and her activist father were on the radar of the Taliban. This was the cause for the assassination attempt on Oct. 9, 2012 by the Taliban, when they climbed into a bus full of school children and singled out Malala for the attack.
A year later, Malala has not only fully recuperated, but she is doing well. Her message has been magnified by the downpour of media attention she's received. Some going as far as giving her the title The Bravest Girl in the World.
Yet, her detractors have mentioned that Malala is only a product of the "White Savior Complex" and is being manipulated by the West for their own means. That by saving her, they will have ultimately saved all the uneducated girls under Taliban rule and, in essence, justifying the wars of the last decade that they have waged on this same general geographic location. That this is another front in the fight between Islamic Fundamentalism versus Western Education. The proof given by the critics is the seemingly deliberate neglect of Shazia Ramzan and Kainat Riaz by the media, schoolgirls who were also shot along with Malala on the same bus.
Her recent autobiography, "I Am Malala," was published on the anniversary of the attack. She is also nominated for a Nobel Peace prize, the winners are set to be announced on Oct. 12. Malala is already being mentioned as a favorite on the list of nominees.
Regarding her nomination, she said:
I think winning the Nobel Peace Prize will be such a great honor and more than I deserve…It will help me begin this campaign for girls' education…but the real award for me is to see every child go to school.
In her recent interview with Jon Stewart, her words left him speechless. Her conviction and dedication to her cause is unmatched and unseen by those in the privileged West. Many will likely to continue to chide her for becoming manipulated by Western ideals. However, it is apparent from her interview, and her UN speech in July, that she is a woman who is deeply entrenched in her beliefs. She is a woman whose words are her own and her empowering story has allowed for many more Malalas to emerge.
We wish Malala the best in her campaign and fight for justice. We stand by her struggle for education for girls all over this world. With or without the Nobel Peace prize win tomorrow, we hope she continues to mark the world with her powerful words!
Image Sources:
http://hamiorg.org/en/wp-content/uploads/2013/07/MALALA-YOUSAFZAI1-e1350660299754.jpeg
http://assets.nydailynews.com/polopoly_fs/1.1397313!/img/httpImage/image.jpg_gen/derivatives/landscape_635/521305333.jpg
http://www.hindustantimes.com/Images/Popup/2013/10/Malala1.jpg
Comments