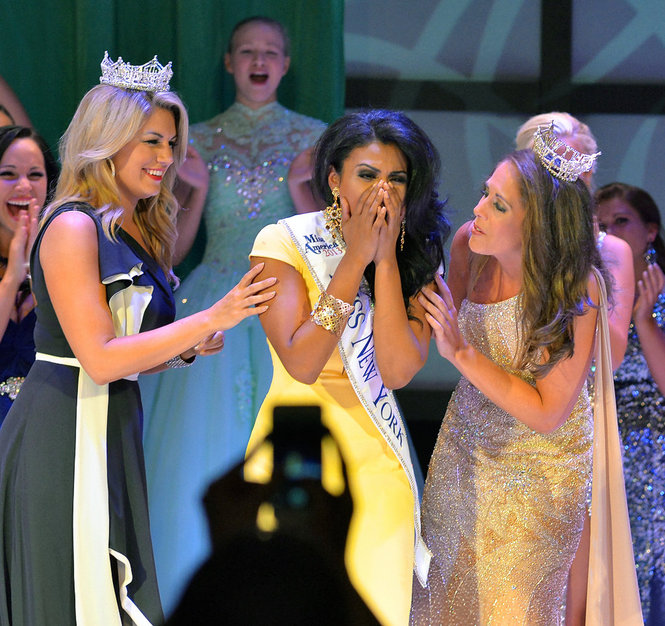 by Sonali Paul Follow @SonaliWPaul
I swear I'm not racist, but this is America."
On Sunday, September 15, 2013, 24-year-old Nina Davuluri was not only physically crowned by her pageant predecessor, but with much emotional response as well, as the above quote from Twitter exudes.  A native of Syracuse, New York, the former Miss New York is the first pageant winner to be of Indian descent.  An American herself, Nina holds a degree in Brain Behavior/Cognitive Science from the University of Michigan.  With the dream of attending Upstate Medical University and becoming a cardiologist, Nina looks up to her father, a practicing gynecologist.
Even though Nina is an all-American young lady who was born and raised in America, she does embrace her Telugu-Indian heritage. From enjoying Tollywood (Telugu cinema) movies to having learned and endured 15 years of traditional Indian dancing. On the night of the pageant, Nina chose to share a bit of her culture with the rest of America by performing a flawless Bollywood (Indian cinema) fusion dance number.  Determined to "celebrate diversity through cultural competency," Nina hopes that her message, and now her pageant feat, will open up the true diversity of an ever-changing America. Most notably, Nina plans to utilize her Miss America platform for the benefits of young girls who may be at a stage in life that she once was – a growing teenager who struggled with bulimia, for example.
In the minutes that ensued following her coronation, the popular social media site Twitter became infested with hateful and hurtful messages.  Ranging from racial insults and ethnocentric remarks, to "patriotic" and pitiful messages in regards to popular counter-contestant Miss Kansas, Nina received much naïve opposition in the first few hours of her Miss America reign.  "Terrorist" and "Arab" were some of the most popular offensive remarks made in reference to Nina.


What baffles me the most, being an Indian American myself, is that if audience members all around the US take Nina for an "Arab" what is their understanding of an Indian? And what do they make of true Arabs?  Then I come to realize that this disgrace (of misunderstanding and, frankly, the lack of education), has been perpetuating in a downward spiral since the events of 9/11.  Time and time again, we hear about how a Sikh man is mistaken for a Muslim and killed, or worse, how a Muslim is mistaken for a terrorist and attacked.  These serious misunderstandings by the American masses are horrendous.  What if a person referred to an American as an Englishman? Back in the early American days, this would have not been tolerated.  I highly doubt that an American patriot of 2013 would like to be referred as his historical enemy.  The point is, words do matter.  In an age where political correctness is advocated, cultural competency should be promoted.  Of course not everyone has the opportunity to become educated about every culture or religion, but if that's the case, there should be no reason to make such superfluous comments such as "Congratulations al-Qaeda, our Miss America is one of you."
Sometimes it seems as if we Americans are babies.  Not only do we have to be chastised in order to learn right from wrong, but we must also continuously be conditioned to not do the wrong thing.  After finally having realized that a Black president wasn't the end of the world by making needless comments regarding his family's origins and background, America must now realize that our country is in fact, a melting pot.  The funny thing is that not only now, but America has always been such a myriad of cultures from its true beginnings as an up and coming nation — so words of hate and disgust can keep flowing, but time will only turn those prematurely- thought- out remarks into the true reflections of the ignorant beings that produced them.  What's more interesting is that a presidential election is slowly dawning upon the American forefront, where a woman may emerge as a possible successor to the first Black president… I wonder if any of those people who are quick to judge an Indian American pageant winner will learn enough to become motivated (to refrain from idiotic comments) and realize what America has always stood for: a vast and growing melting pot to say the least.
If it's anything to take away from this post I hope to convey the simple message:
If you do not have anything nice to say, then do not say it at all.  (Because then you just sound like the ignorant idiot that you really might be).
Comments