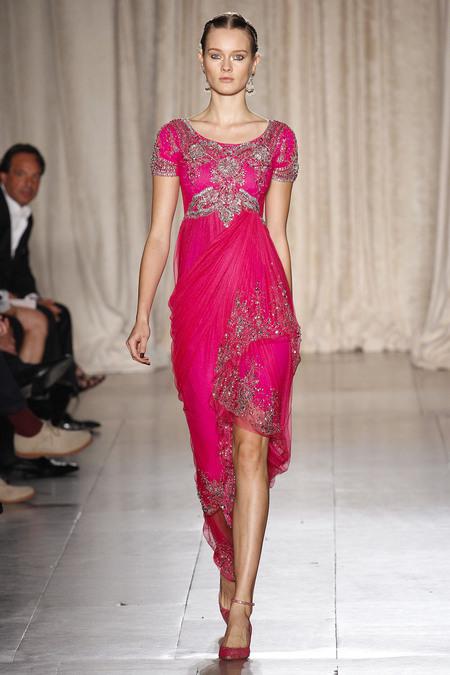 by Simerjeet Sahota – Follow @SimerjeetSahota

When I was younger, I used to get offended when I would see a designer "borrow" from India or be "inspired" by India. For some reason I felt like any Indian influence was mine alone and how dare any non-Indian use my country to draw inspiration from? Mind you, I've only been to India once when I was 10, and yeah, I really hated it but that's beyond the point. Now when I hear of Lagerfeld using willowy saris in his Chanel collection or Galliano incorporating heavy Indian textiles in his runway shows I get excited. Beyond excited because not only do I understand it, I can use it. The next time I'm seated in front of a nagging shopkeeper, I can pull out my smartphone and show him exactly what I'm talking about, and so help them if they can't replicate this Marchesa Collection.
Marchesa is synonymous with glamor and when combined with the influence of India, there is a high expectation with little room for disappointment. Luckily, this collection gracefully walks the line between East and West, keeping some of the silhouettes of the Spring season while mixing them with bold fabrics and intricate embellishments. Incorporating lace and sheers, designers Georgina Chapman and Keren Craig, focused on both sculptural shapes and draped fringe to bring India into the Spring season. While this may not be your everyday look, maybe it'll inspire you to look at East-meets-West fashion a little differently.
[Images: style.com]
Comments