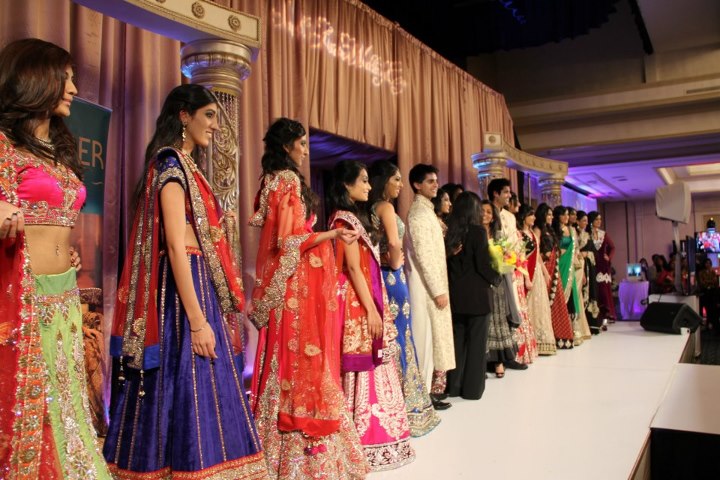 by Simerjeet Sahota – Follow @SimerjeetSahota

Now that I've covered your bridal attire (you lucky/unlucky girls…however you want to look at it), let's get down to the rest of us. I don't know about anyone else, but I adore going to South Asian weddings. Maybe its because I live in America and I don't see them as often as I like or maybe it's the completely acceptable over-the-top dress (my middle name is "overdressed") but I love them! I do, however, have a hard time with finding outfits for the six thousand events that are involved. I mean – what exactly is a sangeet? And can I or can't I wear that bandage dress I bought from Forever 21? (No. Never. This is never okay. Throw that dress away). So here's a list of standard wedding events and suggested attire. By no means is this list exclusive so feel free to use it as an outline. When in doubt follow my personal rule of thumb: If there are going to be more than 50 people at the event, don't skimp on the swag. "Swag" roughly translated to bling, color, embellishments
1. Mayian/Haldi Ceremony: Ladies you can't go wrong with something simple and comfortable. This event usually involves smearing a turmeric type paste on the bride or groom-to-be so maybe wearing your Sunday best is not a good idea. Things can get messy, so I would go with something cotton based and easy to wash, just in case a flour fight ensues (I swear this actually happened at a family wedding of mine.). The ceremony is usually held in late afternoon/early evening but even if it's late night, stick to lighter colors and fabrics. Save your "A game" for the serious events.
2. Mendhi Ceremony: If you're on the bride's side, chances are there's going to be an evening of henna and fun. Usually held in the evenings and comprising of close family and friends, the mendhi ceremony, in my experience, has mostly been a time to hang out and gossip. On most occasions, some mendhi gets done. Stick to easy to clean suits as in the haldi ceremony but pick something with a little more embroidery and color. With every event, we're working our way up to seriously fancy.
3. Sangeet/Garba party: I think of this as the dress rehearsal to the reception. You want to wear something embellished and colorful, loads of jewelry but skip on the heels because you're going to be dancing like there's no tomorrow. Make sure you're comfortable in your outfit and make sure you can move in your shoes for hours. In all of this fashion craziness, don't forget to have fun! So think about making sure everything fits properly and you're not wearing a new, un-broken-in, pair of shoes.
4. Wedding Ceremony/Reception: Finally! You've made it to the big day so don't hold back. Throw on that color, those twenty rings, and those YSL stilettos. Bright colors, bold jewelry, trendy suit attire, its all appropriate. Most importantly, remember to have fun and that this is an occasion to be absolutely happy for the bride and groom. And eat a lot of food. Don't forget that part.
I decided to skip on the pictures because what's available to you will depend on where you're shopping and most importantly, what you like. I hope these rules are helpful and happy wedding season everyone!
Image via: Banner
Comments