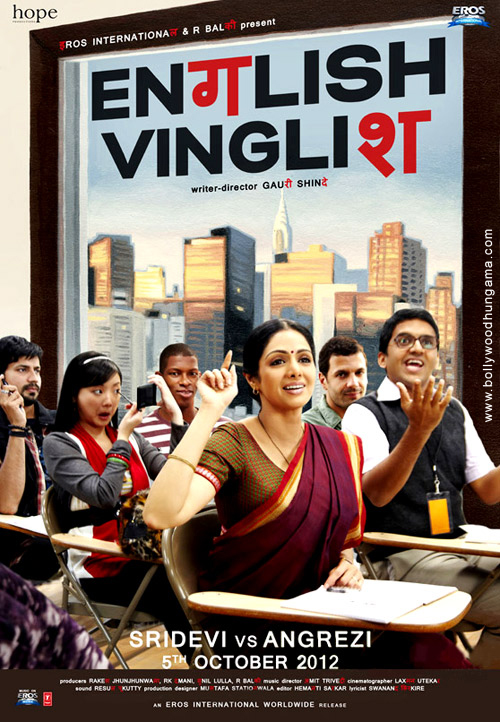 by Hera Ashraf – University of Southern Indiana
Sridevi makes a wonderful comeback into Indian cinema after 15 years with this film! The film is a light-hearted story, fantastically written and directed by Gauri Shinde.
I won't go into too much detail about the plot because I don't want to end up giving everything away, but basically, this story is about a housewife, played by Sridevi, who feels belittled by her husband and children because she doesn't know how to speak English. In order to gain some respect for herself, she secretly starts attending English classes, and the movie takes you through her journey.
I loved the way the movie was directed. It lasted about two hours, but there was not one moment where I felt bored. I never felt the movie was being unnecessarily stretched out, which is very RARE in Bollywood. The dialogue was so perfect. There was just the right amount of comedy, drama, happiness and sadness. Each of the characters was so unique, that you grew attached to each one of them as the movie progressed. The characters were very unique, real, and relatable. From the husband, to the sister, to her classmates, not one character felt out of place. I couldn't imagine what the movie would be like if one of the characters were to be removed.
Now let's talk more about Sridevi. She looked absolutely stunning. So beautiful. And her acting was GREAT. In fact, while watching the movie, I forgot I was watching Sridevi. She beautifully became her character and she never let go. She was so timid throughout the movie, which was perfect for her character of a traditional housewife.
Have I said the words perfect and beautiful enough yet?
There wasn't much music in the film. The few songs that were present were kind of bizarre if you listened to them by themselves but they worked well as background music in the movie. Nothing I would download on my iPod to listen to in my free time or while doing homework, etc, but the music worked really well with the movie.
All in all, this movie is great. It puts a big smile on your face. So gather your parents, siblings, friends, etc. and go watch this film! It will not disappoint. Oh, and the best part, no awkward moments whatsoever. You can finally watch a film with your parents and/or kids, stress-free.
Comments