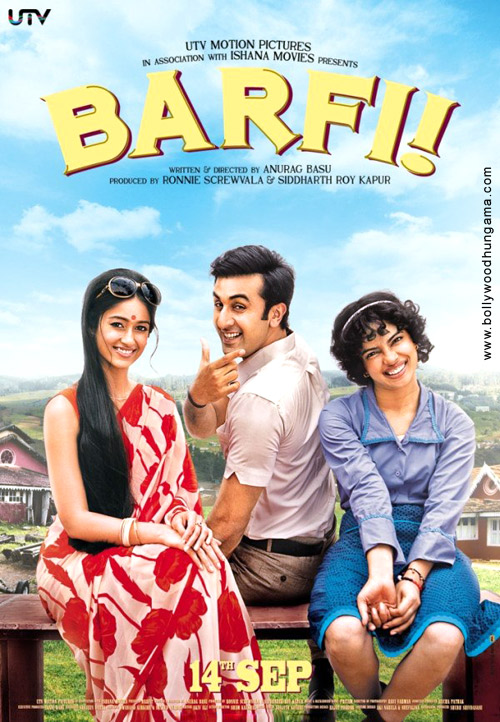 by Hera Ashraf –
There was a lot of hype and much said about Barfi! when it was first released. After hearing of the critics rave and of all shows being sold out, I decided to check it out.
Not to be a party pooper, but I was kind of disappointed. Before you start throwing tomatoes at me, allow me to explain why.
The movie was directed by Anurag Basu, and stars Ranbir Kapoor, Priyanka Chopra, and newcomer Ileana D'Cruz. Ranbir Kapoor plays a character, Barfi, who is born deaf and mute. He charms a beautiful girl who falls in love with him, Shruti (played by Ileana D'Cruz), but unfortunately Shruti is already engaged. Meanwhile, Barfi's father informs him that he must pay for his own treatments, so in order to get that money, Barfi decides to kidnap his rich, childhood, and autistic friend, Jhilmil (played by Priyanka Chopra). The movie then goes through this whole situation, which I won't spoil by giving away the details and the ending.
The plot actually had potential, however I found that it was not very well directed. The movie takes place in three different time periods, and at times I found it a little hard to follow because the scenes were jumpy.
My biggest problem with this movie, though, is the length. It runs for about two and a half hours. Now that seems normal for a typical Bollywood film, but with this story line, that much time was really not needed. I felt as if it wasn't so stretched out, the plot would've been easier to follow. Anurag Basu's films usually have great plots, for example Life in a Metro, Murder, and Kites. But he seems to not take too much time to tell his story.
Direction aside, I must commend Ranbir Kapoor in this film. This is probably the best film of his career. I thought that he wouldn't be able to outdo his performance in Rockstar but he did. Even though he had no lines in the whole movie, he managed to capture me with his expressions. Without him saying a word, I was able to understand what his character was thinking. He was hands down phenomenal in this film. Although Ranbir Kapoor was my favorite in this film, this was probably Priyanka Chopra's best film as well. And first-timer Ileana D'Cruz was a natural. I cannot point fingers on either of them because they fulfilled their job. In fact, if it weren't for their performances, this movie would not have been considered to be India's Oscar nomination.
Now let's discuss the music. The music in the film was composed by Pritam. I thought he did a great job! My favorite track is "Ala Barfi," sung by Mohit Chauhan. And no, that has nothing to do with my love for Mohit Chauhan.
All in all, this movie did not live up to hype that surrounded it. The performances of Ranbir, Priyanka, and Ileana saved this film at the box office.
Comments