By Sheela Lal – University of Missouri
I spent six months in Hyderabad a year ago. No, my parents weren't fed up with me and shipped me there. Surprisingly, I elected to go there for study abroad.
My dad's family lives in Hyderabad, so when I wasn't at school or travelling, I stayed with them. The last couple of weeks of my stay, I realized, I needed to learn how they make chicken biryani.
I came home and prepared it for my father. He gave me his seal of approval. Two months ago, I prepared this dish for 100 people. I have to assume it was a hit, considering there was nothing left.
So now I have decided to share this recipe with the rest of the world. Don't tell me it isn't true Hyderabadi biryani. Don't tell me it isn't authentic.
This is word for word how my bua makes it. My Hyderabadi bua. If it isn't pakka Hyderabadi for you, I have a finger for you. This is my family's variation on a classic Indian dish.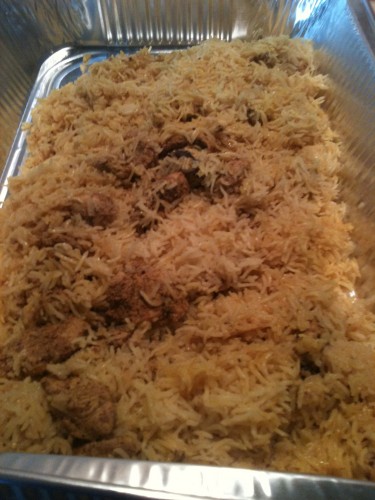 Warning: I do not have specific measurements for a lot of this recipe. For the marinade, mix however much of each of the ingredients.
Ingredients:
1 lb chicken
2-3 cups rice
1 onion
1 cup oil to use throughout the process
Mint
1.5 cup milk
Spices:
Garam masala
Salt
Haldi (turmeric)
Red pepper powder
If desired, some cardamom seeds.
Marinade:
lime juice
ginger paste
garlic paste
salt
garam masala
mirchi
splash of milk or yogurt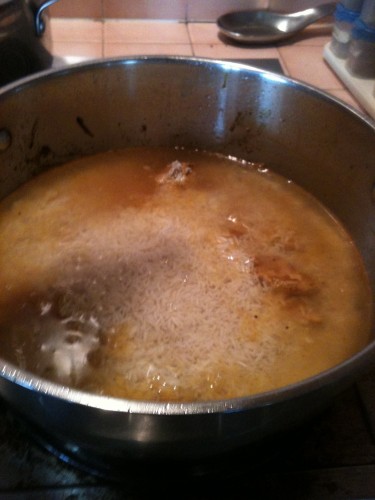 Instructions:
Wash chicken and cut into 1" cubes. I'm not Muslim, but I have found that halal chicken works much better than typical grocery store chicken.
Marinate in lime juice, ginger garlic paste, salt, garam masala, and mirchi, and let sit for 6 hours, or overnight.
Whenever you are ready to start cooking, prepare the rice and toppings.
Wash and soak 2-3 cups rice in a separate container.
Cut up full onion, and keep half aside.
Fry first half with red pepper in oil, and keep aside. (you want this to be FRIED. Nice and crispy. It will be used as a "garnish" after the rice is done cooking)
Put second half in with green peppers, and curry leaf; fry for a bit. This can and should be sautéed, not fried.
Once the onions have sauteed enough, drain the meat from the marinade and add to the pot.
Note: This is an Indian dish. If you think there needs to be more oil, then add it.
Wait for the meat to firm up a bit (I'm talking barely turning white), then add approximately 1 tablespoon of garam masala, salt, haldi, red pepper powder, and if desired, some cardamom seeds.
Stir until meat is cooked on the outside. You do not want to cook it all the way through, because it will be too firm at the end. This should take about 5 to 10 minutes
In another bowl mix 1 to 1.5 cups warm milk with some saffron. If you don't have saffron, don't worry; it isn't necessary.
Drain rice and add to pot.
Add 4 cups water, or enough water so it covers the rice by an inch.
Add mint.
Add milk.
Turn down the stove to about a 3.
Cover until rice is cooked.
Comments