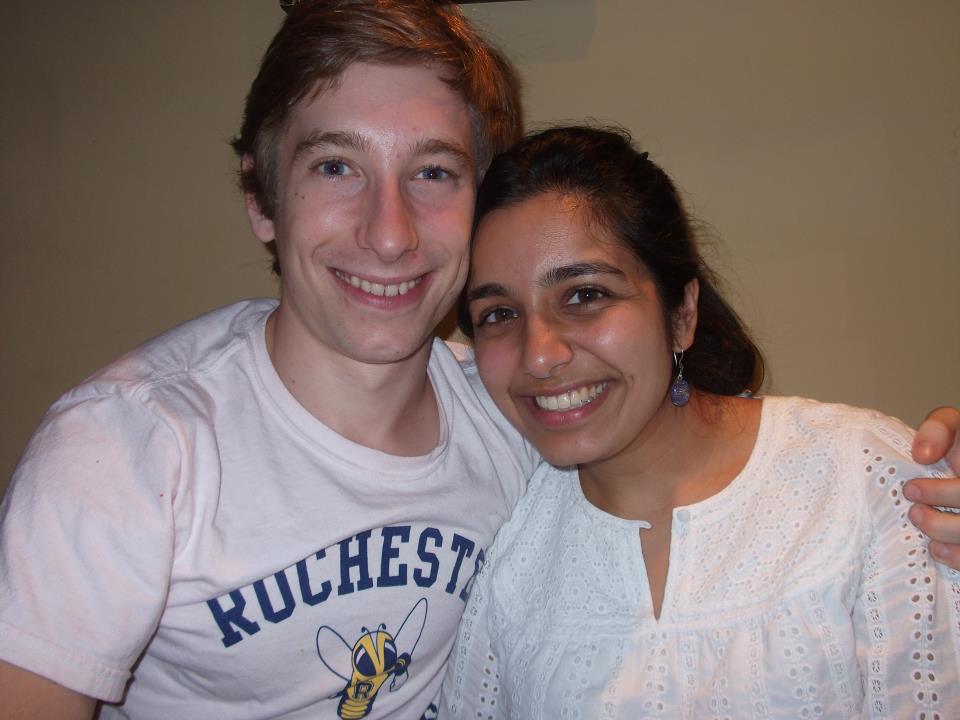 by Aditi Mehta – Houston, TX
Since BG's inception, we have had many, many readers send us comments about the sticky topic of interracial relationships. Girls have asked for advice, shared their own stories, and even left advice for girls in facing the same dilemmas. There is a wide array of stories, ranging from happy, sad, frustrating, to inspiring.
Many outside of the South Asian community are amazed that in 2011 interracial relationships would be examined with such scrutiny. Its a sad fact that many Brown Girls have dealt with quite a bit of drama when it comes to dating someone outside of the community. But on the other hand, there are some great stories of how these relationships have worked out so well.
We at BG thought it would be great to stir up the discussion by sharing some stories from the "other side"- non-South Asians talking about their experiences with Brown Girls. We hope to feature stories the challenges of interracial relationships as well as show how they can be possible! Most of all, its always an interesting to hear what guys think!
To start, we have one of our own staffer's BF talk a little bit about his relationship and what he's learned from dating a Brown Girl. Meet Andrew Otis, beau of Sheela Lal.
Who are you currently dating and for how long?
I'm dating a fantastic lady named Sheela Lal. We've been dating since July 2010.
What were some of the barriers to overcome in order to be in this relationship?
The biggest barrier might have been meeting her father. But that was easily overcome! Sheela and I were traveling in India, and I was having all sorts of digestive troubles (It's India, hey). She suggested that the best way for me to meet her father, a doctor, was to have me Skype him about all the diarrhea and other stomach problems I was having. It was a very awkward conversation, the first meet-the-parents talk being about my poo. But I think he likes me now.
What is your cultural background? Do you find there are similarities that help make the relationship work?

My mother is ethnically Jewish and I suppose my father is a WASP. We're not very culturally attuned as a family other than that we usually celebrate Hanukkah and Christmas because those holidays have presents. I think our differing cultural backgrounds, ethnicity wise neither help nor hurt. They just are. But they certainly give us things to talk about: I know more now about Salman Khan's biceps than I would ever care to know, or how cute Abhy Deol is. What's more important are other similarities that we have, such as values, or what we like to do with our time.
How do you feel about the cultural differences? Are they apparent on a day to day basis or do they hardly come up?
Cultural differences seem to arise mostly with her family's values on relationships. The fact that she is dating me presents problems. Mostly along the lines that no one outside her immediate family should know that I exist. Generally, though, it's not really a problem.
Do you feel like everyone is always watching you or paying you too much heed because you're in a relationship with someone of South Asian decent?

Hah. No. Well, except in India. Then *everybody* is watching you.
What do your friends (both South Asian and not) think of your significant other's background? Did anyone ever say maybe this is or isn't a good idea?
My friends are very supportive, and they usually don't mention her ethnic background, except for the comments that I went to India and found myself an Indian girlfriend (Sheela and I met in Hyderabad. She goes to the University of Missouri and we met studying abroad). They have told me that she's a keeper, so that must be a good sign!
My mother's main comment is that she thinks that brown parents inexplicably don't let their children drive on the interstate. Otherwise, I think that's about her only gripe, and she enjoys the fact that she and Sheela can team up and torment me together.
What advice would you have for a guy who may be interested in dating
a Brown Girl?
I never set out to date a brown person. At no point did I think to myself: "I'm going to exclusively pursue South Asian women." That's just silly. (In fact, I wasn't doing a particularly good job at pursuing anybody). Be open, who you're willing to date and realize that her culture may be a lot different than yours. There's definitely a lot to learn. And have fun, of course!
What advice would you have for a Brown Girl in an interracial relationship?
I don't know if I can give any great advice for brown girls dating interracially. You are probably your own best judge of your parents when it comes to who you're dating. I can say, though, try to learn how to drive a manual transmission car. I'm still working on that one with Sheela.
What is it about South Asian women that appeals to you?
It's not that South Asian women specifically appeal to me, although I think they are very pretty. It was more circumstance than anything else that brought us together. While I appreciate and enjoy her culture, Sheela could be any other ethnicity and it wouldn't change my attraction for her.
Sheela and Andrew show us that an interracial relationship can work and they are fun! And as a nice bonus, Sheela has shared her own advice on dating that you can read here.
Stay tuned for more…If you would like to share your story (anonymously or not) please send an email to [email protected] We'd love to include your story in our discussion of interracial relationships within the South Asian community! 
Comments