by Keertana Sastry and Sheela Lal
Let's face it, Indian movies are… not all gems. The songs, the lame dances, the cheese, OH the cheese! That's what we all grew up to love. But the films on this list have a healthy balance of cheese and maturity that would make anyone take India's movie industry seriously.
You can read about these films on Wikipedia, but this is a list of why we enjoyed them so much.
January
No One Killed Jessica (Keertana)
Normally I wouldn't approach these "triumph over evil" type films with a ten-foot stick. But execution and casting push it from unoriginal to inspiring. Considering that it is based on a true story about a woman who goes on a crusade to bring her sister's murderer to justice, the film already starts with strong feminism. The film does a good job of casting a defiant and disapproving look at the crumbling judicial system in India. Vidya Balan is fantastic as the sister of the victim. She exudes naivety and heartbreaking pain when she finds out her sister has been murdered. And Rani Mukherjee is at her snarky, cynical best as the journalist who decides to help the case. Another plus: the women get to be real, especially Rani. She curses, she is comfortable with her sexuality, she doesn't care what anyone thinks about her; she's pretty much my hero.
There are some completely cliched moments like when Vidya's character wants to stop fighting for the cause but changes her mind after a stern but rousing lecture from Rani and a heartfelt candlelight vigil in her sister's name. But the movie shows off an improved twist on traditional Bollywood filmmaking.
Dhobi Ghat (Sheela)
Why is this movie worth watching? First off, it's Aamir Khan outside of his Bollywood persona. It's Prateik Babbar portraying a (gorgeous) washerman. It's new comer Monica Dogra doing what we all wish we could do – documenting other sides of Indian life. These three characters represent a new India, one that is progressive, disenfranchised and curious. It's slow, and reminds me of an art house film. The colors are dark, but so are the characters and their relationships. It's simultaneously edgy and comforting, exploring a microcosm of what makes Mumbai and that's what makes Dhobi Ghat worth watching. (It's also a great way to introduce your friends to Indian cinema before hitting them with the typical Bollywood masala movies)
February
7 Khoon Maaf (Keertana)
This film has a complicated relationship with viewers and critics: either they really enjoyed the hyperviolent themes and morbid story, or they hated it to the very cores of their beings. Obviously, Sheela and I are in the first camp. We were in love from start to finish. No longer is Priyanka Chopra one of those pretty girls who used to make a lot of silly movies about nothing. She's proved her acting chops in a few smart films now and damn, she is just about perfect as seven different incarnations of the same twisted woman who just can't find the perfect man. I'm sure we can all relate. Difference is, I'm not sure I would kill someone for always feeling frisky (that one died from too much of his own "frisky medicine" if you catch my drift).
While the men don't get much face time, some of them make lasting impressions. Without question, my favorites were Neil Nitin Mukesh, John Abraham and Irrfan Khan. They completely embody their terrible traits and it makes killing them the only reasonable response. Neil Nitin such a great performance that it's impossible not to be wowed. And John Abraham is at his absolute best as a struggling rocker who hits the big time. Irrfan is always brilliant and will make you sick to your stomach when you find out his kill-worthy trait. See this film… Don't get any ideas, but definitely watch it.
Tanu Weds Manu (Sheela)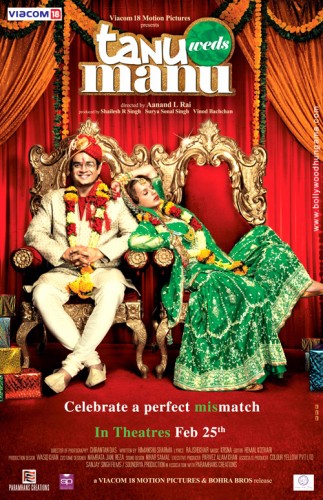 I don't like wedding movies. I mean, not just Indian; any wedding movie from any country in any language will end half way with me rolling my eyes. The only reason I gave Tanu Weds Manu a chance, was I heard positive things about it, and for the most part, didn't disappoint. Kangana is really funny in this movie, Madhavan proves an emotional rock and Jimmy is a loose cannon. The characters are weird and that makes this a romantic COMEDY. It gets a little sappy at the end, but that's easily overlooked by the first half of the movie. If you want a cute girls night or even date movie, Tanu Weds Manu is appropriate.
April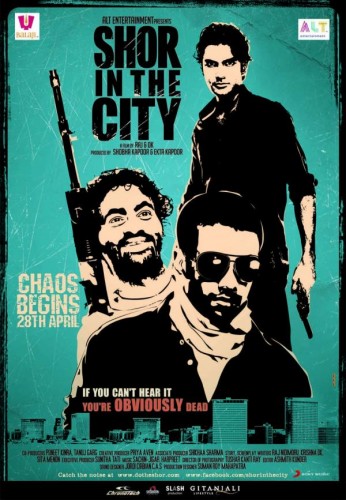 Shor in the City (Keertana)
"Karma is a bitch." That's the first song you hear during Shor in the City. It's pretty much the perfect way to describe this film about five lives who face different dilemmas during a festival in Mumbai. So we all know from every Bollywood movie ever made that Mumbai deals with a LOT of crime. And while this film also deals with different kinds of crime in Mumbai, the execution is more darkly funny and twisted, almost like a Quentin Tarantino film but without all the severed limbs.
The five guys are great, especially Tusshar Kapoor who quite literally may never have a better performance. Heroes star Sendhil Ramamurthy is also pretty fantastic as an NRI who comes to Mumbai to start his life over only to get into more trouble. The stories here are all a bit obvious but the way the characters handle their situations keeps the movie fresh. It's gritty, off-beat, interesting and it breaks the cycle of boring gangster/mob boss crime films.
Dum Maro Dum (Keertana)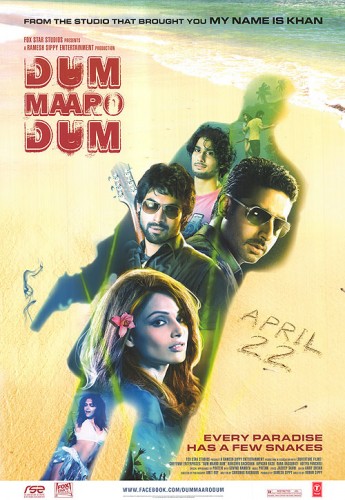 When I heard about this film, I was worried to say the least. Another drug/crime noir? A not-so-subtle reference to the movie Hare Rama Hare Krishna? GROAN. But I was fairly impressed with the style of this film. It's obvious that the point is to show how corrupted the government and police are in Goa (and most of India) but the movie is about several different lives that are forced together by one drug lord and his manipulation.
The cast is pretty great. Abhishek plays the good-guy with a dark past with ease- he could probably do that role in his sleep by now. Prateik is good once he gets to play vulnerable. But along with Abhishek, the shining star of this film is Telugu actor Rana. He has the right balance of quiet anger and heart to be perfect as Abhishek's foil and partner (in a way). It's definitely worth checking out, but get ready for an intense time.
June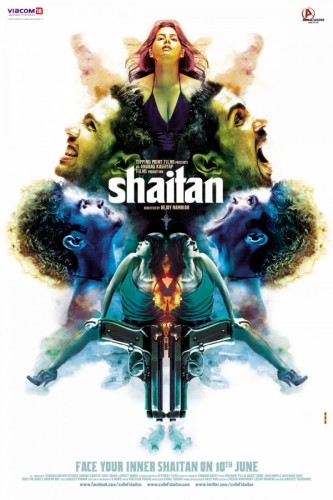 Shaitan (Sheela)
The movie art turned me off at first. The surreal art portrayed it like a religious movie or another college movie that I couldn't connect with. I finally came around to reading the summary, I realized it was neither. This is a movie about overindulgence and privilege and it doesn't let you forget that. It's a fantastic movie. Bejoy Nambiar is obviously influenced by Western directors, evident in the cinematography. The editing is interesting and use of the soundtrack is well used. The five main characters (I really can't call them protagonists or antagonists) don't try to be redeeming. They are just trying to spend their parents' money on drinks and drugs. There are aspects to their characters that almost make them relatable, but for the most part, their story is alienating. And that is what makes it so fascinating.
July
Delhi Belly (Sheela)
Hilarious. Seriously. I couldn't stop watching and laughing. Like Shaitan, it's incredibly smart. Unlike Shaitan, it takes every incident and elicits a laugh from it. I wish I could explain why I think it's the best movie of July, but without context, my review will mean nothing. It's the smart kind of funny. There's latent feminism woven throughout the plot. The music is fun and used wisely. The burqa scene is NOT offensive. The bharatnatyam dancers, the food, the matryoshka dolls, and the five star hotel, I Hate You (Like I Love You), the Disco Fighter. Irreverent and incredibly entertaining. Yeah, those clauses sound about right.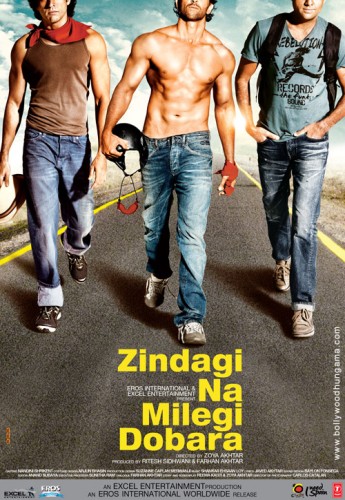 Zindagi Na Milegi Dobara (Keertana)
Thank you for this movie Bollywood. This is a great look into three very different men who happened to be best friends and how they change each other's lives in incredibly important ways during a bachelor party/road trip to Spain. It's sweet, moving, smart, different and even better: It's really funny.
All three actors here are brilliant. Abhay Deol is the rock of the group. He does a fantastic job of keeping the friendship strong and united. Hrithik is amazing as the stuck up, Type-A personality who learns to let loose with the help of a girl (Katrina Kaif, who usually bugs me beyond all reason but is quite charming here). And my absolute favorite is Farhan Akthar who gets to play the funny guy who has ulterior motives for the trip. He is so vulnerable and his performance is emotionally devastating. The guys have awesome chemistry, the songs are clever and catchy, and the script is so realistic. And there are enough cheesy moments and strange coincidences to still make this an appropriately "Bollywood-y" film. It's the perfect companion to films like Dil Chahtha Hai and you'll enjoy it from start to finish.
Comments