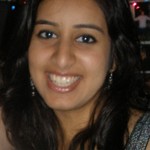 by Komal Thakkar – George Washington University – Star Contributor

I have grown up at the ballet barre beginning at age five, and I have never known a life without dance. In the artistic environments that I was brought up in, minorities are a rare sight. Thus, when I learn of a South Asian making strides in the performing arts, I am deeply intrigued and truly encouraged. When I saw Sonia Rao singing on NBC's new show The Voice, I knew I had to contact her. Rao grew up in Freehold, NJ (right by my hometown!) to first generation immigrant parents. I had the opportunity to speak to her to learn a little bit more about her background and her future endeavors. She's definitely a Brown Girl to be inspired by!
Tell me a little bit about your musical background.
I always played instruments. My mom was very interested that I learn violins and piano. I had to practice everyday. At the time, I was very resistant and annoyed. Now I look back on it, and I'm so happy that I have these skills because it's so relevant to what I'm doing today.
Have you trained in classical Indian art forms at all?
My mom always wanted me to do Bharatanatyam, but I was so resistant at the time because I wanted to do ballet. It's what was on TV and what I saw around me. Now, I'm getting into Ravishankar and other classical artists.
When did you realize that singing and songwriting was what you wanted to do?
I went to UC Berkely to study psychology. At the beginning, I wanted to be a singer but it seemed so farfetched. My parents drilled it into me that it was a ridiculous idea. I was going to be a psychologist, but my parents wanted me to be pre- med. San Francisco is where I started writing. I sang in college, and I danced. Once I studied song writing after I graduated though, it was so clear that this was what I wanted to do.
When did making a career out of singing become a feasible idea?
Up until the end of high school, you are mostly under your parents' influence. None of my high school friends were going into artistic fields, so I had no one to look to as an example. In college, I found people taking different arts classes, and it just seemed so much more plausible than when I was in New Jersey.
How have your parents reacted to your decision to sing?
Peoples' reactions to my being on The Voice had them do a 180. Before, every time I'd call, they'd ask me about Graduate School.  They haven't mentioned anything since family members have emailed them saying that they saw me on the show. I know they love me and they want me to be secure, but it's certainly been a bit of struggle. The show has definitely helped.
What was it like on The Voice?
It was an amazing experience. I spent a lot of time with sixty amazing musicians who had taken all these different paths to get there, and I learned so much from them.
Has being on the show altered your career path at all?
My album is coming out over the summer. I was going to release it anyway, but now I have this incredible twitter following and much more support.
Who are the some of the artists that have had an influence on you and your upcoming album?
Florence and the Machine, Ingrid Michaelson, and Sara Bareilles
What's been your favorite experience or most memorable moment in your singing career thus far?
Writing my first song. I was ecstatic. It's called Calm Her. I felt like I had tried dancing and painting and all these different artistic mediums my whole life, and when I wrote that first song I had finally found my outlet. Being on The Voice was also a highlight.
Where do you see yourself five years from now?
I hope that I am still writing and putting out music. I have three singles out, but this will be the first album. I'm really excited, and I want to continue singing, performing, and writing like I am now.
For more information check out her website at http://soniarao.com/
You can also find her on Itunes by searching Sonia Rao.
Comments