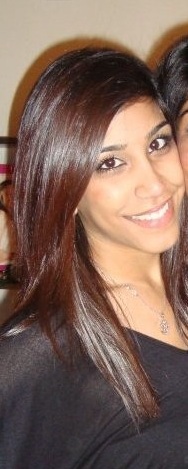 by Alisha Ebrahimji – Texas State University
Once upon a time: My name is Alisha Ebrahimji, and I'm 21 years young. I was born in Baltimore, Maryland but raised in Dallas, Texas. (Plano, represent.)
And now: I'm pursuing a degree in journalism and sociology at Texas State University. I'm so busy that I run around like a chicken with my head cut off but I love it. The newspaper has opened my eyes to the world of journalism and I can't wait to become more immersed in this fabulous atmosphere. Aside from writing and reporting I'm also a gymnast, music enthusiast and dancer. I love Bollywood movies and music and I promise, one day, I will dance in one. I'm incredibly close to my mum and brother. They've been my rocks throughout every obstacle I've encountered in life thus far and I don't know where I'd be without them. I try to view the glass as half-full but let's face it, everyone could use a little more optimism in their life. My iTunes library is full of the most random combination of music, but somehow describes my every mood. I know almost all the words to every Lil Wayne and Atif Aslam song. What a combination, huh? I consider myself to be very independent and persistent. Knowledge is power. I love a good challenge and I'm a firm believer that everything happens for a reason. Yes, I have one of those cliché lists of "places to visit before I die" and I am confidant it will be accomplished.
When I grow up: I want to be famous. Just kidding, but not really. I aspire to be a broadcast journalist one day. My goal is to provide the world with fair and efficient news because I believe everyone has a right to know what's going on, when it's going on. I hope that I can inspire at least one person in this lifetime and I wish to be a positive influence on those around me.
Alisha's own blog can be found at http://alishae.wordpress.com/.
Comments